Springfield — West Springfield senior Delaney Fetzer has wanted to play Ado Annie Carnes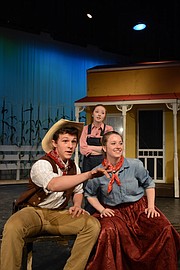 from Rodgers & Hammerstein's groundbreaking musical "Oklahoma!" since she was two. She remembers dancing around the living room while her grandparents would play music from the production that first opened on Broadway in 1943.
Carnes is a great character role, Fetzer said — flirty, confident, "not like myself." In the solo "I Cain't Say No," Carnes' character struggles with the trifling opposite sex. "She's so much fun," the senior said. "I liked how funny she was."
When the Spartan Theatre Company director and teacher Bernie DeLeo announced "Oklahoma!" would be the spring musical for 2017, Fetzer knew she had to be in it.
DeLeo, in his fifth year at West Springfield, previously taught the work at Thoreau Middle School in Vienna. He was able to find some of those original costumes ("mementos," he said) and retrofit them for this older cast.
At the high school level DeLeo teaches "Oklahoma!" in his musical theater unit for beginning theater classes.
"It's a universal show," he said. "The genesis, the catalyst of all musicals."
Things changed after composer Richard Rodgers got together with librettist Oscar Hammerstein II to transform Lynn Riggs' 1931 "Green Grow the Lilacs" play with melody.
"Writers didn't care about stories so much," said DeLeo, "plot came after."
But when the now-famous duo put together their first musical, he continued, "it clicked, it all fell into place."
THE PLOT UNFOLDS around love-struck cowboy Curley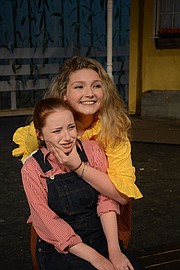 McLain trying to win the heart of farmer's daughter Laurey Williams, set against the backdrop of 1906 Oklahoma Territory.

"I'm trying to embrace the idea of being a big shot cowboy," said sophomore Brooks Todd, who plays McLain.
In last year's "The Wedding Singer," Todd was a member of the ensemble, but is taking his first lead role in stride — boots, spurs and all. "The rehearsal environment is different, more mature," he said.
Playing opposite Todd's McLain is senior Anna Bonavita as his pursuit Laurey Williams. Predominantly a singer, Bonavita has performed in school productions of "The Pajama Game" and as Julia Gulia in "The Wedding Singer." But she said she also likes the variety "Oklahoma!" offers, with the opportunity to do more acting.
Senior Lourdes Turnblom anchors the frontier community with her Aunt Eller. "She's supportive, very relatable," Turnblom said. "She gives advice if people need it."
Choreography for the production — most everything save for a ballet dream sequence — was designed by the Fetzer, who plans to study theater education at Catholic University. The veteran cheerleader of 11 years has also done work for show choir, and said hallmarks of her work are upbeat moves "with a pep in their step."
Fetzer used a combination of study of 1800s dance and peer focus groups to put her mark on "Oklahoma!" Expect a lot of heel-kicks ("a lot of kicks in general") and lots of lifts, she said.
For DeLeo, the leads say a characteristic of his shows is a highly engaged ensemble, making numerous lesser storylines and layers to the musical come alive through their faces and reactions.
"In lots of high school shows the ensemble is not active," DeLeo said, "but that's what people go to see. If every is person not engaged, it falls flat."
Talent development from that kind of approach is one explanation for the upward mobility of students like Todd and Fetzer from ensemble to lead in just one year. But DeLeo said it's bigger than that.
"I want the ensemble to feel motivated," he said. "It's the show that matters, not individual roles."
<inline type="text" title="When & Where" align="right" >The West Springfield High School Spartan Theatre Company presents Rodgers & Hammerstein's "Oklahoma!" Thursday-Saturday April 27-29 at 7 p.m. and Sunday April 30 at 2 p.m. General admission is $10. For more information and to purchase tickets a