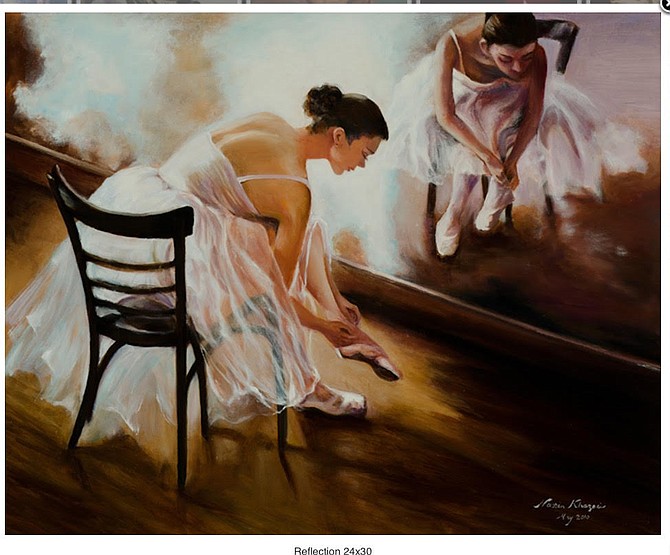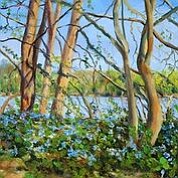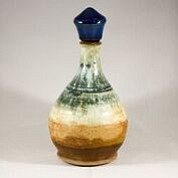 Spring is an exciting time to be an artist in Great Falls. Not only does it give local artists the opportunity to get out and about with cameras, brushes and paints to work "plein air," but their April ArtFest, the start of the Great Falls Studios show season, enables them to share their artistic creations from the winter months and early spring. Many of the works on display will be brand new.
The Great Falls artists have been inspired to paint and photograph both locally and internationally: some fortunate to paint on their travels while Walt Lawrence has been observing and photographing the fascinating lives of a pair of Bald Eagles, nesting on an island off Riverbend Park. Others have been painting the bluebells and other blooms, recently announcing that spring is truly here in Great Falls. Begoña Morton has sketched community landmarks, now depicted on her new tea towel.
Oil painters have portrayed graceful ballet dancers, lush green landscapes, intricate still lifes, realism and abstraction. Irrum Merill has designed exquisite pearl jewelry, Vad Moskowitz presents her one of a kind woven purses, and potters display decorative and tableware pieces.
Visit and talk with member artists on this year's expanded Spring ArtFest, in four locations in town: the Grange and Old Forestville Schoolhouse, next to the library, and a three group studios in the Village center: The Artists' Atelier, the Loft and Artists on the Green.
Several of Great Falls artists teach and there will be a display of the winning art of students at The Arts of Great Falls, in The Grange during the weekend.
Great Falls Studios Artfest will be held Saturday and Sunday, April 29-30, between 10 a.m. and 5 p.m.