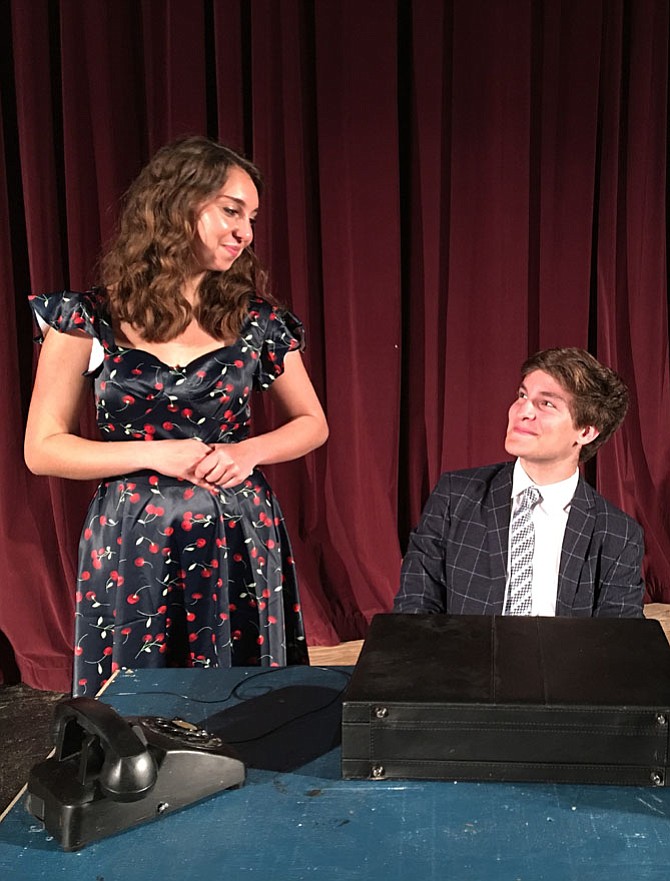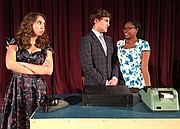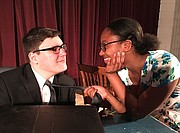 One man's quest to rise up the corporate ladder in 1967 is portrayed in Chantilly High's upcoming musical comedy, "How to Succeed in Business without Really Trying." It also marks the Chantilly directorial debut of Andy Shaw, a new addition to the school's theater-program staff.
The curtain rises Wednesday-Saturday, May 3-6, at 7 p.m. Tickets are $12 at the door or via www.chantillyhsdrama.com. The cast and crew of nearly 60 have been rehearsing since February, and Shaw says things are coming along really well.
"They're just a joy to work with," he said. "And they're all so good that even any of the ensemble members could have played the leads. Everyone comes in prepared and with good ideas for things, and I'm like, 'Let's try it.' They're so talented, I feel lucky to be here."
The show takes place at a firm called World Wide Wickets, so the set will reveal several rooms inside the company's headquarters. "Audiences will see the building's interior, with a city skyline above and behind the main wall," said Shaw. "And movable tables and desks will serve as various things during the show — everything from a coffee cart to a conference-room table to a secretary's desk."
Boys will be wearing suits and girls will wear dresses in gem-tone colors — solids for the ensemble and patterns for the leads — to give their costumes a classic, '60s look. The girls' hairstyles will reflect that time, as well.
Looking forward to opening night, Shaw said people should really enjoy this show. "The characters are big, bold and goofy, and the story is a great recipe for comedy," he said. "It's a well-written musical with funny jokes, and the cast is so strong. There are also lots of really good songs that get stuck in your head — I find myself humming them on the way home."
Playing the lead role of J. Pierrepont Finch is senior Evan Belsky. "Finch is outgoing and charismatic and uses his natural charm and wit to advance in the company," said Belsky. "He's clever and opportunistic and also very likable. At first, he follows a book telling him how to get ahead; but later, he uses his own abilities. He knows how to interact with people and how to play a situation to his advantage."
Belsky is having fun playing Finch because "He's really genuine and you root for him, even though he's scheming. It's the first musical I've done at Chantilly and it's a lot of work, but it's also enjoyable." His favorite number is "Brotherhood of Man" because "All the guys sing it together, it's energetic and up-tempo and the choreography goes well with it."
As for the show, he said, "It's very funny and the audience will like the comedy and the different characters. It has a '60s business feel, the story's satirical at points and the songs are catchy."
Junior Caroline Woodson portrays Finch's love interest, Rosemary. "She's naive about the world and very bubbly," said Woodson. "All she wants to do is help other people. She has ideas about how her life is going to go, but eventually realizes it's not all she thought it would be. She's in love with Finch and wants to marry him, but he's focused on his career and worries that having a girlfriend will mess it up."
Enjoying her role, Woodson said, "Rosemary has such a good heart, and that drives everything she does. She eventually realizes she's not going to settle for what she thought she wanted. She's the traditional, female protagonist, but I play her a little more goofy and awkward."
Woodson especially likes the song she sings, "Happy to Keep his Dinner Warm," because "It's when Rosemary realizes she likes Finch and he's everything she's ever wanted. It's also funny because she knows he'll ignore her because he's so busy working, but it's fine because 'I love him and we're going to be happy.' But when I sing it in the reprise, she has a whole, different viewpoint."
Although this play was written in the '60s, said Woodson, "The audience will like that the jokes are still relevant and the plot still makes sense today. The cast has worked really hard on their singing and individual characters and has made the show their own."
Playing the boss's mistress, Hedy LaRue, is junior Aris Stovall. "Hedy wants something more for herself than to work in a nightclub," said Stovall. "She's a genuine person and uses her relationship to a successful businessman to her advantage. However, in trying to become a secretary, she unknowingly creates havoc and almost ruins a relationship in the workplace. But despite all that, you can't hate her because nothing she does is out of hate or anger — she's just being herself."
Stovall likes "playing the sexy girl all the guys stare at because I'm not like that, at all. So I get to step out of my comfort zone and portray a character confident in her sexuality." Her favorite number is "Been a Long Day." Sung by Finch, Rosemary and Rosemary's best friend, Smitty (Adriana Castillo), it's hilarious, said Stovall, because of the lyrics and the actors. "It's the end of the day and they're waiting at the elevator to go home," she said. "Finch and Rosemary are shy about confessing their feelings for each other, and Smitty's trying to get them together."
Stovall said the audience will "walk away with a good feeling because this show is so funny. And they'll relate to Finch as a character who wants to succeed so badly that he goes to extremes that weren't actually necessary, at all. Our singing ensemble is amazing and sounds so good, and the costumes are colorful and the hairstyles big, in keeping with the '60s."
Senior Adam LeKang portrays the boss, J.B. Biggley. "He's the typical head of the office – you don't want to talk to him, but you know you'll have to, at some time," said LeKang. "He's a scary, firm boss who's strict with his employees. But in private, he's more sincere and needs affection. He believes his wife is too hard on him, so he seeks out other women."
LeKang said it's a great part to end his theater career at Chantilly. "Biggley is the perfect combination of everyone I've played," he said. "He's the big dog, but also the pleaser, with odd morals and peculiar pastimes. He golfs, but he knits. And his lines make the least sense, but are the most fun to say."
LeKang also likes singing "Grand Old Ivy" with Finch. "It's the fight song from Biggley's college and is the typical, over-the-top, go-team-spirit march," he said. "It's also ridiculous because Finch pretends he attended Old Ivy, too, and makes up the dance moves and words of the song as he goes, but Biggley takes the song seriously."
LeKang praised head Theater Director Shannon Khatcheressian and her costume teams who've "worked really hard to make sure each character's personality comes through their costumes." He also said audiences will enjoy "the show's writing and seeing all these off-center characters mixed together — and the chaos ensuing from it."