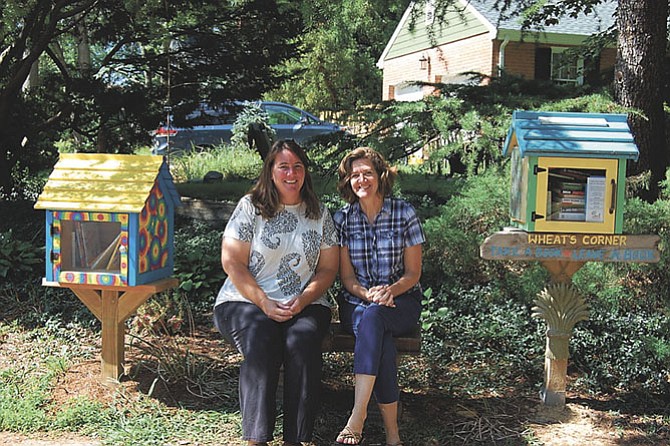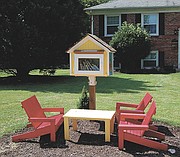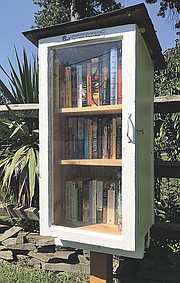 A cultural phenomenon has spread across the United States and 70 other countries in recent years. But for a movement with an international reach, it's one rooted largely in neighborhoods and on leafy, suburban streets. It's centered on what appears to be brightly painted dollhouses perched on posts, but are really local book exchanges, often called "little free libraries."
The Fort Hunt area of Mount Vernon hosts several of the 50,000 miniature libraries throughout the world. Most are registered at LittleFreeLibrary.org, a 501(c)(3) nonprofit organization that, in its staff's words, "inspires a love of reading, builds community and sparks creativity by fostering neighborhood book exchanges around the world." Other libraries are the creations of individuals with no affiliation with the organization.
Ann Ventura and her family live on Stockton Parkway in Stratford and she installed a library full of young adult and children's books. "I wanted to help children to read without it being a chore," she said. "We go through a dozen books in a busy week," she said of the process of "taking a book and leaving a book." She leaves a small Teddy Bear in the cabinet – a "reading buddy" for small children – and provides links to free, online ebooks.
In Riverside Gardens, Liz Schroeder has two enclosures and a bench on her corner lot on Stirrup Lane. "I had seen one near my parents' home in Minnesota, so we ordered a kit from LittleFreeLibrary.org, then my husband built the second," she said. "We found the bench at Holly, Woods and Vines on Route 1." She keeps children's books in one, and mixed titles in the other. She named her library "Wheat's Corner" after her late uncle, Leonard Wheat, who used to own her home.
One library in the Waynewood area is on a high foot-traffic street, Potomac Lane, which runs between Waynewood School and the Waynewood Recreation facility. Kevin and Chellye Promen host the library, which Kevin's father built and supplied with small Adirondack chairs. "Someone anonymously filled it full of books immediately after we installed it," Kevin Promen said, "and we have five to 10 people stop every day."
Joni Koons, who lives on West Boulevard Drive, said her husband asked a local craftsman, Kevin Tollefson, to build a miniature replica of Mount Vernon to use as her library. "It's almost always full of books," Koons said, "and people walking dogs or moms with a child in a stroller are always stopping." Also, people donate books to her, and she gives any excess to United Community Ministries on Route 1. Her only trouble with the library are ants that often take up residence in the enclosure, a problem that likely also vexed George and Martha Washington.
In Williamsburg Manor North, Natalie Morris installed a library under a tree in her front yard on Chancery Court, and added a swing and a chair for patrons. "I wanted to do something to increase literacy and participate in community building," she said. "My husband built it with recycled materials left from his house projects." She places books for grownups on the top shelf, young adult material on the middle, and picture books on the bottom. She also leaves treats for both dogs and their walkers in the enclosure.
Mike Stebbins and his family live on Alden Road in Plymouth Haven and recently installed a library. They previously had lived in the District and had contemplated building a number of enclosures for low-income areas, but never reached that goal. "I had built one by the time we moved last year to our current home, so I finally installed it earlier this summer. We fill it with 'great books' and gardening editions. Next spring, we plan to include plant seeds, as well."
Vandals recently damaged Stebbins' library, but he has repaired the enclosure.
Rico Harley maintains a Little Free Library on Rampart Drive in Collingwood Springs, and Tauxemont Preschool on Fort Hunt Road also has a library.
For information on establishing one's own library, visit https://littlefreelibrary.org/.