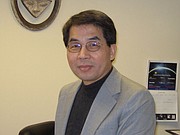 Potomac resident Dr. Hwa-Young Michael Yeh learned he had the hepatitis B virus when he was in college. He tested positive for the disease when he volunteered to donate blood during a student blood drive.
But he didn't think much about it or seek treatment. There were no symptoms.
"In my case [symptoms] didn't really show up until after [age] 40," Yeh said.
He just felt tired.
"Later," he said. "When I was in business and schedules were tight I was tired more so I started searching for a cure. At that time the medicines were not good."
As the years passed, Yeh continued feeling tired and began to feel an urgency about his condition, which he knew affects the liver.
"Almost 12 years ago a nodule appeared on my liver so I went to Georgetown [Medstar Hospital] and to Johns Hopkins," he said.
He learned he needed a liver transplant.
While Yeh felt he received great care at both facilities, Medstar Georgetown Transplant Institute came up with a good match for his transplant.
"I was very fortunate, they said it was a perfect match," he said.
Before his surgery, performed by Dr. Thomas Fishbein, director of the Medstar Georgetown Transplant Institute, Yeh said he was more hopeful than nervous.
Yeh is now 68 and is happy to be well again.
"I definitely feel the difference," he said. "It gave me an additional 11 years and the opportunity to see my first granddaughter."
Hoping to help others with Hepatitis B, Yeh donated $50,000 to Medstar Georgetown Transplant Institute to start a screening clinic for the disease. The screening program began in August 2016 at the Institutes' clinic in Annandale, Va.
Yeh, who is originally from Taiwan, said Hepatitis B affects Asian Americans at a much greater rate than the rest of the U.S. population so he wanted to help get information on the disease to the Asian American community and provide them with testing.
"Especially in this area, it's important to understand the facts," said Chloe Screve, program coordinator at the clinic. "We have a high prevalence of Asian Americans."
Screve said the disease is easy to treat but there is a possibility of liver cancer if it is not treated. She also said there is no cure for Hepatitis B but there is a vaccine to prevent it.
"This is not about me, this is more about the screening program," Yeh said. "If it can help give a better quality of life, that's what it's all about."
The clinic is located at MedStar Georgetown Transplant Institute in Fairfax 3301 Woodburn Road, Suite 209, Annandale VA 22003.
Walk-ins are accepted Tuesdays and Wednesdays from 8:30 a.m. to 3:30 p.m. For more information or to make an appointment call 703-639-0616.