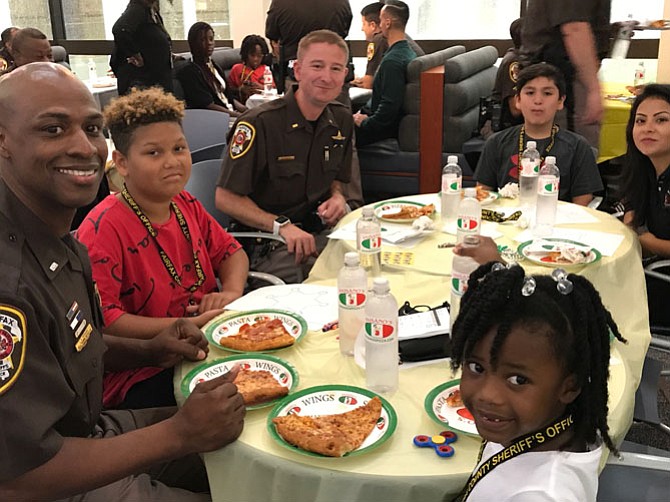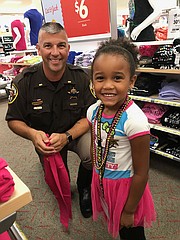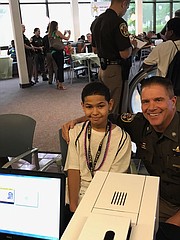 It's not every day a motorcade of Fairfax County Sheriff's Office vehicles, lights flashing, leads a busload full of excited children and deputies to a Target store in Burke to do a little before-school-shopping. However, on Tuesday, Aug. 15, it happened when 40 children who reside in Northern Virginia emergency shelters were treated to the shopping trip of a lifetime.
Each child was the beneficiary of a $250 gift certificate. The Sheriff's Office raised funds throughout the year for the event by approaching businesses, nonprofits, and individuals to be sponsors.
The event, named Shopping with a Sheriff, will allow the participating children ages 5 and up, to start the school year right, decked out in new clothes and shoes, heads high, looking sharp, proud, and ready for new beginnings.
The children were not without a tad of supervision on the shopping trip though. Each child was paired their own deputy or member of the Sheriff's Office staff. The adults provided size and selection guidance. The children and their family member(s) are residents at Northern Virginia emergency shelters, among them the Katherine K. Hanley Family Shelter in Fairfax, Next Steps in Alexandria, Shelter House based in Reston, and Patrick Henry Family Shelter in Falls Church. Shelter staff selected participants.
SHERIFF STACEY KINCAID explained the history of the program and why the deputies look forward to it. Kincaid said the Sheriff's Office has been producing Shop with a Sheriff since 1992. She clarified the participating deputies volunteer their time to take part in the program because it is important to them.
"Our county is working very hard to prevent and end homelessness. As long as children are still residing in emergency shelters, we will do everything we can do to help them. The event offers a positive one-on-one experience with the deputies for the children, an experience the children might recall in the future.
"Should they ever need our help, the children know they can count on us," Kincaid said. "And, maybe one day when they are grown up, they will join our team as deputy sheriffs."
Joe Meyer is executive director and CEO of Shelter House, a non-profit organization based in Reston that serves homeless families in Fairfax County. Meyers attended the pizza party held at the Fairfax County Courthouse Atrium Cafe for the children and deputies before the shopping trip. The pizza party was part of the get acquainted section of the program.
Around the room, there was a sea of men and women in brown uniforms listening to the children talk about their families, coloring princess' pictures with them, and taking silly self-portraits at the photo booth.Meyers said, "This is my favorite event of the year. Sheriff Kincaid and her deputies are making a statement of how to lead a community by greatness. They are providing dignity to children during a critical time in their lives — the first day of school."
Some of the children seemed a little unsure about what was going to happen after the pizza party. When asked what color shirts and dresses she liked, Emma, 7, told her shopping partner, Lt. Col. Mark William Sites, "I like black, pink and purple clothes." Then Emma quietly asked, "Are we really going shopping?"
Sites bent down low and looked Emma straight in the eyes, "We're definitely going shopping. We'll fill a cart. No problem."
A few minutes later, the children left the atrium, beside their deputies and headed for the bus to Target. Many deputies had their arm around a child's shoulder or held a young one's hand.
When they arrived at Target, dozens and dozens of deputies snatched up the carts, all while laughing and joking with the children. Deputies hoisted the littlest ones into the front seats of the carts. Down the aisles, they rolled, causing other customers to turn their heads, pause, and smile.
It was a shopping cart frenzy of red. While the pace slowed down, pants, shirts, socks, shoes, and underwear piled higher and higher in the carts.
MANY CHILDREN seemed unable to comprehend they could pick out more than one item for themselves. Tyquan, 9, was overheard saying to his shopping partner, Capt. Sonny Cachuela, Jr., "How much have we spent? Is this OK to buy?"
"Don't worry about it, buddy," Cachuela replied. "We'll work it out."
The following businesses and organization helped support Shop with a Sheriff: Target, Paisano's Pizza, Montessori of Chantilly - Casa Dei Bambini, Fairfax County Federal Credit Union, Let's Help Kids, Fairfax Deputy Sheriff Union, Fairfax Sheriffs' Association, and Fraternal Order of Police Fairfax Lodge 77.
To learn more about Shop with a Sheriff or to make a donation, contact the Sheriff's Office at sheriff@fairfaxcounty.gov.