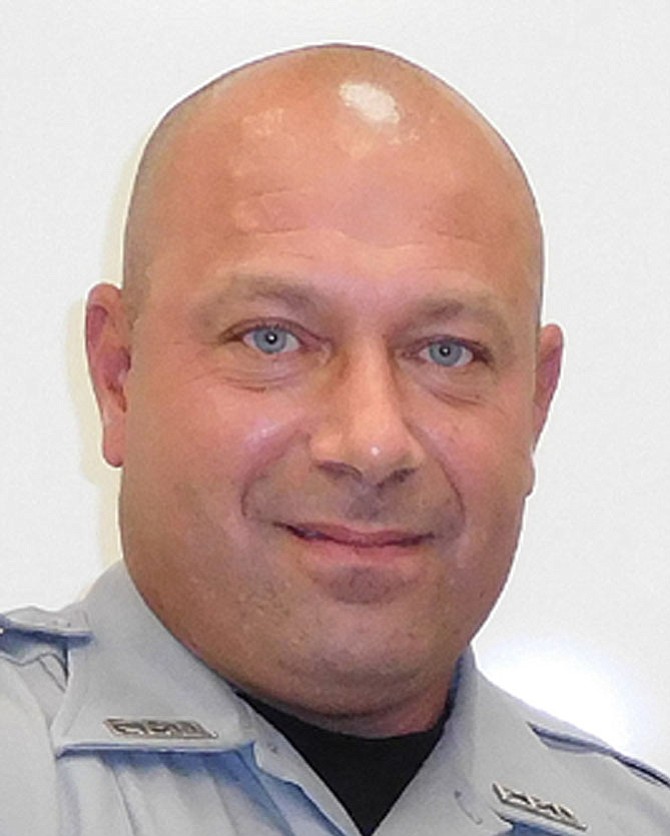 Centreville — PFC Brian G. Rochefort is the Sully District Police Station's Officer of the Month for October. And although he couldn't be present to receive his award, he was honored during the Nov. 8 meeting of the station's Citizens Advisory Committee (CAC).
He's a member of the Traffic Enforcement Team and was the station's Officer of
"Through Oct. 31, Rochefort issued nearly 2,400 traffic citations for various violations"
the Year in 2015. And Lt. Ryan Morgan, the assistant station commander, had high praise for Rochefort in his letter nominating him for the award.
"People who travel through the Centreville, Chantilly and Clifton areas understand traffic is a major concern in the Sully District," wrote Morgan. "We have all seen a number of motorists who are willing to drive impaired, distracted or simply drive in a manner which would be out of character for most of us.
"By total number of complaints, traffic-related concerns routinely outnumber other worries by a large margin. As such, officers like PFC Rochefort are needed and deployed to address those complaints and focus the majority of their efforts on traffic education and enforcement."
Rochefort has been with the Fairfax County Police Department for eight years. And, wrote Morgan, as the Sully District Station's primary traffic officer, "He has taken on the lion's share of community traffic concerns. These concerns reach the station by various means, and all are reviewed and verified."
In an effort to reach motorists and get them to drive the posted speed limit, residents may see Rochefort programing the station's variable message boards in or adjacent to neighborhoods or setting up vehicle, speed-indicator signs where speeding has been reported.
However, when attempts to gain voluntary compliance have stalled, he is called upon for traffic enforcement. "Through Oct. 31, Rochefort issued nearly 2,400 traffic citations for various violations," wrote Morgan. "That equates to having a tough conversation with nearly 240 drivers a month about driving behavior."
Stressing that Rochefort knows the Sully District well and is very familiar with the major roads, Morgan said Rochefort is well aware of the particular roads where speeds can approach triple digits, as well as those secondary roads drivers use to quickly cut through local neighborhoods.
"The driving behavior we have all seen by careless motorists is unfortunate and puts others in danger," wrote Morgan. "It is imperative to have officers like PFC Rochefort who are committed to keeping the public safe."
Morgan further noted that Rochefort is "a very personable and respected officer who cares deeply for the safety of our Sully community and everyone passing through. If you happen to see him in your neighborhood, feel free to wave, but make sure you are buckled up and driving the speed limit. It is a pleasure having PFC Brian Rochefort serving in the Sully District, and he is well-deserving of the CAC's recognition as Officer of the Month."