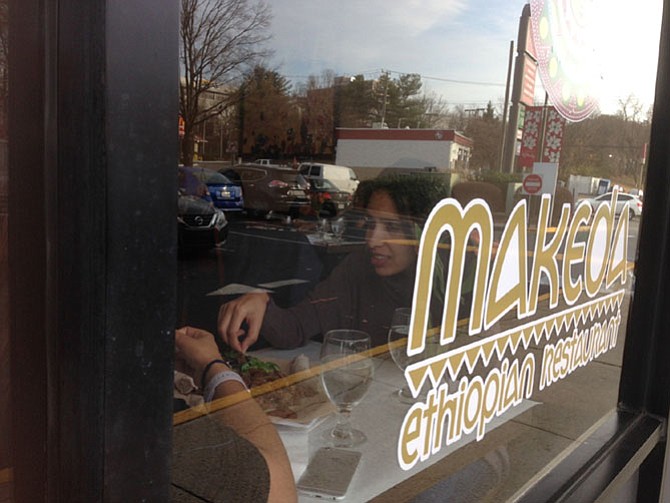 If You Go
Makeda, 516A S. Van Dorn St.
Hours: 11 a.m.-2 a.m.
Top seller: "So far we're selling a lot of the vegetarian [combination] dish, and a lot of Makeda tibs, which is a ribeye meat," salted with onion, garlic and peppers, owner and Chef Philipos Mengistu says.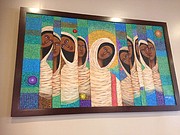 Tucked into a space in a West End shopping center, the new restaurant cooking up traditional Ethiopian food is easy to miss at first. But look again and you'll see a new resident of the Van Dorn Plaza, its sign unassuming, its food anything but.
You've found Makeda — named after Queen Makeda of Ethiopia. Let your stomach be your guide and pop in for a meal.
Makeda opened several months ago as the kid sister to chef and owner Philipos Mengistu's longstanding Queen of Sheba restaurant in New York City, a pioneer bringing the restaurant's food to the D.C. area. Mengistu says the expansion makes sense.
"Our menu is getting strongly popular in this area," he said. Much of the menu inspiration from Queen of Sheba, "so we catered that for the neighborhood around here too."
The Alexandria outpost was the brainchild of two lifelong friends: Mengistu and Daniel Solomon. Friends since kindergarten in Ethiopia, they joined forces for Makeda. After years in the United States, Solomon went back to his homeland, and when he returned, he revisited Mengistu's Queen of Sheba in New York and saw the menu in a new light.
"When I came back and had lunch at Queen of Sheba, I felt as if I was at home. So I said you know what, how about bringing that taste to Alexandria?" Solomon said.
While scouting for a location, the chosen region was equally important, Solomon said. With hundreds of thousands of Ethiopian residents in the greater D.C. area, the key was finding a spot that would accommodate as many people as possible.
"Most of the Ethiopian community lives around Springfield and the Franconia area. Not only that, but this place is growing … not only for the Ethiopian community, but non-Ethiopians as well. And this was a perfect location for us," Solomon said.
THE MENU ITSELF is abundant with many Ethiopian favorites. And while Mengistu is a fan of everything on the menu, a couple of items do stand out personally with him.
"While I like everything, I have two favorite dishes: I like the vegetarian combination, which is one of my favorites, and the doro wot, which is our signature dish. It is served in Ethiopia when it's a holiday. It's like a holiday treat," he said.
The vegetarian combination offers up a buffet of vegetable-based options for diners, ranging from shiro to gomen wot. The doro wot, on the other hand, is a chicken dish cooked in a stew flavored with onions and Ethiopian spices. It is in fact Ethiopia's national chicken dish, and Makeda offers it daily — no holidays required.
Though Makeda hews closely to the roots of Mengistu's original Queen of Sheba, there are some differences in this sibling restaurant. For starters: gluten-free options, ranging from gluten-free injera to rice and other companions to the main course. And then there's the addition of a kids' menu — almost a requirement in the West End neighborhood bustling with families.
"Here we put the kids' menu because we want kids to be comfortable and the families to be comfortable," Mengistu said. "They can have injera, the kids can have their spaghetti, they can share an Ethiopian dish with the kids — we have rice chicken, we have chicken nuggets, which is not Ethiopian but we have to accommodate."
Makeda is now offering a weekend brunch menu, as well — with an Ethiopian twist, of course.
The menu is an egg-based brunch menu, "but we do it Ethiopian style. We have cracked wheat; we have fit-fit, which is typical Ethiopian breakfast; we have egg with meat — we do it Ethiopian style," Mengistu said.
Hope Nelson owns and operates the Kitchen Recessionista blog, located at www.kitchenrecessionista.com. Email her any time at hope@kitchenrecessionista.com.