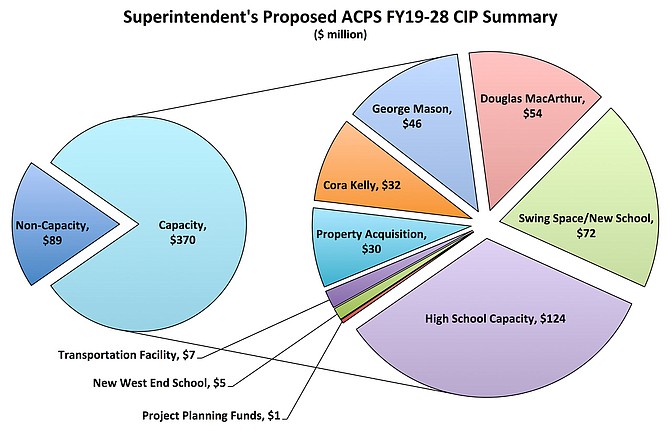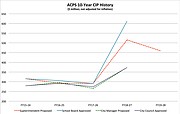 The school administration's proposed FY19-28 Capital Improvement Program (CIP) — still large, though much streamlined compared to last year's unprecedented request — may be a step toward meeting the city in the middle.
The School Board has prioritized "capacity, capacity, and capacity" in light of swelling student enrollment, said Superintendent Lois Berlin, framing her $459 million CIP proposal to the School Board last Thursday, Nov. 30. Schools exceed their intended student capacity at all grade levels, with gaps projected to widen. The schools and city jointly forecast that enrollment will increase by 18 percent over the next 10 years. Even with proposed expansions, enrollment in excess of capacity will increase by 36 percent. The largest jumps by both measures will occur at the high school level.
This theme of capacity expansion, as well as its hefty price tag, continues the trend of recent years. This year's proposal represents a 25 percent decrease from the School Board's approved $611 million 10-year request in FY18, though still a 58 percent increase over its $291 million request in FY17. It's also a 23 percent increase over the city-approved $373 million in FY18, and a 68 percent increase over the city-approved $274 million in FY17. The 9-year portion of this year's proposal that overlaps the FY18-27 CIP exceeds the city's approved amount for that timeframe by $99 million (28 percent). Adjusting for inflation reduces these increases, but by no more than 5 percentage points.
A major difference this year, though, is that the superintendent incorporated a good deal of input from the Ad Hoc Joint City-Schools Facility Investment Task Force. The task force represents an attempt to stabilize the governing bodies' capital planning, which have been misaligned and contentious for years. In October, after five months of deliberating, the task force recommended to both bodies how to re-prioritize 28 facilities projects slated through FY27. By removing, delaying and/or reducing funding for 22 — 11 each from the schools and city — the task force mostly closed an initial $46 million funding gap for those projects.
Berlin, who participated closely in the task force's work, assimilated its most salient recommendations.
For example:
Building a new school first for use as "swing space," rather than temporarily converting a rec center for that purpose;

Deferring elementary school tear-down-and-rebuilds a few years in order to align with the city's identified available annual cash flows;

Allocating $30 million up front in FY19, which the schools can use to seize quickly upon property acquisition opportunities as they arise;

Phasing funding for high school capacity expansion in order more fully to engage the public about potential alternatives to meet that need;

Removing $28 million for a new pre-K center, also to enable further alternatives analysis and stakeholder engagement.
Berlin also recently hired Mignon Anthony — a task force member up until her new appointment — as the school system's new chief operating officer. Anthony comes to Alexandria from Baltimore City Public Schools, where she oversaw a $1 billion capital program. She will have "budgetary oversight" for capital improvement and operations and maintenance, among other areas, according to an ACPS press release.
City Council recently instructed City Manager Mark Jinks not to consider another property tax rate increase when building his FY19 budget proposal. Property taxes account for the lion's share of the city's revenues. Asked whether the schools' request would be feasible without raising taxes, Helen Lloyd, a school system spokesperson, said: "ACPS [Alexandria City Public Schools] aligned the superintendent's proposed CIP with the recommendations of the task force with only slight adjustments for cost estimates and for non-capacity items based on deferral of projects. The task force was charged with prioritizing projects within the revenues allocated specifically for facilities based on already approved revenue generation. ACPS' requested CIP funding will continue to escalate as projects continue to be deferred. Ultimately we feel the superintendent's proposed projects can be achieved within approved funding if the City Council considers these projects as priorities as the task force did in their recommendations. The city FY19 CIP is projected at around $200 million and ACPS is only asking for $67 million of that. While somewhat higher than contemplated a year ago, it could be fully funded without a tax increase if the ACPS funding needs are given priority."
The city administration did not respond to requests for comment about the feasibility of the superintendent's proposal without raising new taxes.
At its first CIP work session, Tuesday, the School Board gave mixed responses to Berlin's proposal.
School Board member Bill Campbell said, "Everything that's being said and proposed by the task force may not necessarily work. And so I don't think we need to take it as gospel that what they say and want to do is going to actually fit what we identify as what the real needs are."
Multiple School Board members expressed concern that the CIP proposal does not specifically include a new middle school. Berlin and staff said that other line items — such as swing-space-to-become-a-new-school, land acquisition and relocatable classrooms — could go toward a new middle school and interim accommodations. School Board member Karen Graf expressed doubt that these alternatives would suffice.
Graf also said: "I'm really having trouble accepting the push-back of the [elementary school] projects on the timeline. … I don't think we should be volunteering to push our projects back."
ACPS CFO Michael Herbstman explained that the task force needed to move some projects back in order to balance expenditures against "a very thin margin of cash flows per year." The task force similarly deferred seven slated city projects, including renovations for City Hall and the health department, as well as a fire station replacement.
School Board chair Ramee Gentry said: "While I appreciate the concern around some projects getting pushed out, … the advantage of aligning with the task force is that there actually is the potential for far more certainty than we've experienced in past years. School X might have to wait one more year, but there's a lot more certainty that that thing will actually happen in [the specified year]. … I think that trade-off is worth it."
The schools' budget documents are available at www.acps.k12.va.us/budgets. The School Board will hold a CIP work session and public hearing starting at 7 p.m. on Thursday, Dec. 7 at the ACPS Central Office, 1340 Braddock Place. Subsequent work sessions will occur Dec. 11, 19 and Jan. 3, culminating in final adoption Jan. 11. All meetings are open to the public.