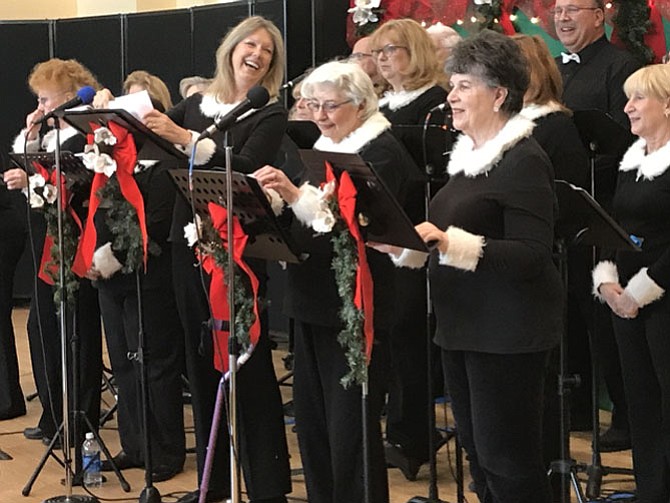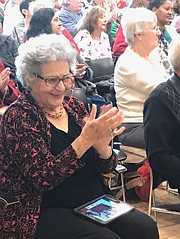 For the fourth year, the Sun Dance Performance Company of Herndon presented two Holiday Song and Dance Shows as their gift to the community. Held at the Herndon Senior Center, 873 Grace St., the Friday, Dec. 8 and Saturday, Dec. 9, performance titled, "A Season of Hope," featured the joyous sounds and sights of cherished holiday tunes, music, and choreographed dance routines.
The company performed its first free show at 11 a.m. Friday for members of local Fairfax County Senior Centers and their second production Saturday at 7 p.m., open to the public to benefit The Leukemia & Lymphoma Society's (LLS) National Capital Area chapter. LLS is the world's largest voluntary health agency dedicated to blood cancer.
According to Ruth Junkins, Director of the Herndon Senior Center more than 230 members of the Herndon, Lewinsville, Little River Glen, Sully, and Providence Senior Centers and the clients of Herndon Adult Day Health Care celebrated the holiday season with the Friday performance.
Members experienced the thrill of hearing carols and songs performed by the Sun Dance Singers directed by "C" Culpepper. Michele Koros, owner of Sun Dance Performance Company, and her students performed choreographed dance routines to season favorites including an original and energetic tap dance complete with high kicks, silvery vests, and black top hats.
Of course, Santa made a special guest appearance, not to sing but to pass out candy canes. The production culminated in a rousing dance-along as members of the company helped seniors to their feet and became their dance partners.
"Bravo, Bravo," exclaimed audience member Alam Atae from Reston as she clapped after the last set. "I loved it. It was very good," Atae said. Hararaen Kaur of Herndon also attended. When asked what her favorite part of the show was, Kaur said, "Everything; everything was my favorite."
On Saturday evening, Sun Dance Performance Company took to the stage for their second show. An equally impressive crowd awaited them ready to enjoy holiday carols and seasonal classics.
Not only was the hall filled that night, but also the donation jar to benefit the Leukemia & Lymphoma Society of the National Capital Area chapter. By night's end, audience members had donated more than $800 to the nonprofit organization. On hand to accept the donation on behalf of LLS was Heather Burneson who thanked those present for their generosity.
For more information about the company, Herndon Senior Center, and the Leukemia & Lymphoma Society, visit them online at sundanceperformance.com, herndonseniorcenter.org, and lls.org.