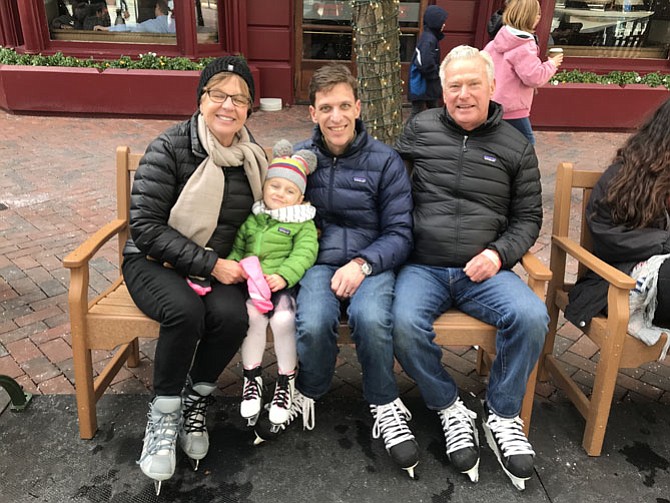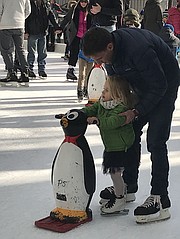 Centrally located in Reston Town Center, you can find couples holding hands while gliding across ice, dads trying to support their child's wobbly first steps in skates, and groups of friends laughing at one another as they slip every fifth step. Ice skating has always been among favorite activities of the winter time.
Open through March, the ice rink will be unlocking their doors at 10 a.m. for their special holiday hours. You can come skate bright and early or enjoy the twinkling lights above when it gets dark out. For more information on specific dates, visit www.restontowncenter.com/directory/reston-town-center-ice-skating-pavilion/
The pavilion puts on different kinds of events for skaters. "Rock 'n' Skate" occurs Fridays from 8 to 10 p.m., entertaining skaters with a live DJ, games and prizes. "Cartoon Skate" is chance to share the ice with characters like Scooby-Doo and Cat in the Hat, Saturdays from 11 a.m. to 1 p.m.
Ice skating prices include $10 for adult admission and $9 for those under 12, over 55 or with military ID. Skate rentals are $6 for everyone. Bring a group of friends and enjoy the outdoor arena for $12 per person, including both admission and skate rental.
AND THE HOLIDAY FUN doesn't have to stop at the rink. To sweeten the deal, the Reston Town Center is offering free garage parking through Dec. 25 all day and all night. This allows visitors to come enjoy all of what the town center has to offer.
Sponsored by The Tasting Room, Scout & Molly's Boutique will be hosting a free wine tasting on Dec. 22 from 7-10 p.m. For those with some last-minute shopping to do the weekend before Christmas, Kids R First will be gift wrapping at the Hyatt from 10 a.m.-6 p.m. on Dec. 23 and 11 a.m.-4 p.m. on Dec. 24.
After a session of ice skating, check out Tenor Tim Mckee on Dec. 23 at 12 or 1 p.m. for an outdoor musical performance on the Promenade. Or, perhaps end the day with a horse-drawn carriage ride for $5. All of the calendar details can be found atrestontowncenter.com.
Restaurants like Panera Bread, M&S Grill, Hen Penny and Clyde's are all located a short walk from the pavilion, making a warm lunch or dinner easily attainable after a skate.