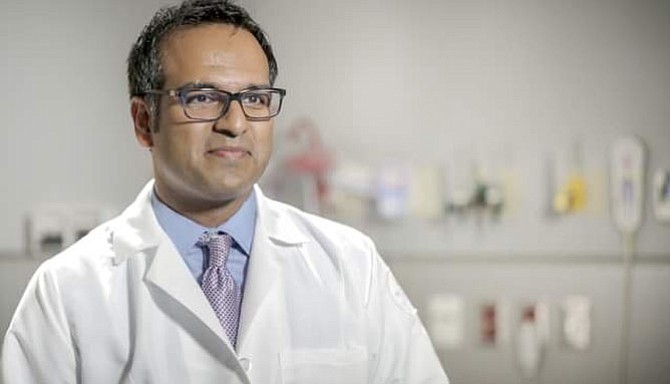 The new Colorado Center for Reproductive Medicine Northern Virginia (CCRM), at 8010 Towers Crescent Drive, fifth floor, Vienna, announced their head anesthesia provider, Dhiraj Jagasia, M.D., M.B.A., received the "2017 Excellence in Service and Professionalism" award from Johns Hopkins Medicine on Nov. 7.
According to Hopkinsmedicine.org, "The Excellence in Service and Professionalism award is presented to the physician who actively promotes a culture that embraces, expects, and rewards the delivery of patient-and family-centered care."
Jagasia, who currently resides in Arlington, was recognized for his work in the development of a "Pain Passport" that walks patients through the use of non-narcotic pain control options. When patients are actively engaged in their care, they report better physical and emotional health.
Jagasia said, "One of the things we came up with is the Pain Management Passport... The first couple of lines say I know I have options for managing my pain. The tokens in this passport represent my commitment to exploring these options for my own health and well-being. This is all centered around the four tenets really of patient-centered care, which are respect and dignity, information sharing, participation, and collaboration."
CCRM Northern Virginia is one of the 10 locations of Colorado Center for Reproductive Medicine (CCRM) across the United States and Canada. The Vienna facility houses an all-inclusive center with an on-site clinic, surgery center, IVF laboratory and clinical laboratory. CCRM's website reports their center is one of the nation's leading fertility clinics providing a wide variety of fertility treatments, ranging from basic infertility care to the most advanced in vitro fertilization (IVF) technology available today.