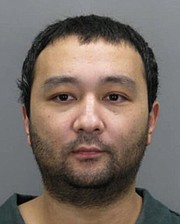 Believing he was the one who struck and killed an elderly woman with his car, Fairfax County police in April charged Kenan Ozcan, 32, of Fairfax, with felony hit-and-run. Now, however, he's been indicted for murder in connection with her death and is slated to stand trial in March.
The tragedy occurred April 14, shortly before 10:15 a.m., near the intersection of Route 50 (Lee Jackson Memorial Highway) and Rugby Road in Fairfax. The victim, Maria Amaya de Ascencio, 75, also of Fairfax, was pronounced dead at the scene.
According to police, investigation determined that she was crossing Rugby Road on foot, traveling eastbound, when she was struck by a car reportedly driven by Ozcan. They also say the car hit her twice.
"A 2016 Dodge Dart traveling southbound on Rugby Road struck [Ascencio], then turned around and struck the victim a second time, before leaving the scene," said police after the incident. "Crash Reconstruction and Homicide detectives responded to investigate. They are looking into the possibility the victim was intentionally run over. It does not appear the victim and suspect were known to each other."
Reporter David Culver of NBC-TV, channel 4, interviewed some of the victim's family members following the tragedy. According to them, he said, Ascencio had gone for a walk that morning. But when she didn't return, her loved ones called her cellphone, trying to reach her, and the police answered it. Culver said the news of her death devastated them.
In addition, in an unrelated incident a few hours after this one, around 12:45 p.m., officers were called to the 3900 block of Fair Ridge Drive in Fair Oaks. At that time, a 43-year-old woman reported that a man was in the shopping center there, acting strangely.
"She took a picture of him," said police. "He became agitated, then [allegedly] assaulted her and went into one of the businesses. Officers found him inside and took him into custody." Police later identified this man as Ozcan.
"As they were investigating [this incident], say police, "One officer noticed front-end damage on [Ozcan's] car in the parking lot. Further investigation determined he was also involved in [that] morning's fatal crash."
Police then took Ozcan into custody, transported him to the Adult Detention Center and charged him with both felony hit-and-run and robbery. He was held without bond.
He appeared in General District Court for his preliminary hearing on Oct. 16 before Judge Lisa Mayne. At that time, the robbery charge against Ozcan was dropped, and the hit-and-run offense was certified to the grand jury for possible indictment.
Then on Nov. 20, the grand jury indicted him on a charge of murder. He's scheduled for a jury trial, March 27, 2018, in Circuit Court. Until then, Ozcan continues to be held in jail without bond.
Meanwhile, anyone with information about the fatality is asked to contact the Fairfax County Police Department at 703-691-2131, Crimes Solvers via www.fairfaxcrimesolvers.org or text TIP187 plus the information to CRIMES (274637).