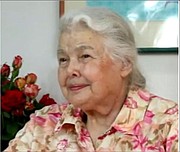 The Great Falls Historical Society is pleased to award the 2017 Jean Tibbetts History Award to longtime GFHS officer, member, and local resident, Doris Carpenter. This award honors an individual for their research, articulation, dissemination and preservation of history for the Great Falls community. Doris profoundly meets these requirements and was unanimously chosen by the Award Selection Committee.
Doris moved to Great Falls with her husband and young family in 1963 and raised her eight children here in Great Falls. She has contributed in a wide variety of ways to the furtherance of local community spirit including being a leader in the 4-H Club, volunteering at the Great Falls Library, and serving as the Treasurer of the Women's Group at the United Methodist Church, among many other volunteer efforts.
With this award, the Great Falls Historical Society wishes to acknowledge Doris for her contributions to local history. Last June, Doris Carpenter authored a book on Thelma Feighery and her country store entitled, "Thelma's Country Store: A Colvin Run Road Legacy." The book contains photos of historical artifacts and of people, the store, and events, that bring to life the successes and challenges of being a country store over a 70-year period. Doris meticulously collected the various artifacts, realizing that she was close to the unfolding of an icon of great importance to the story of our community. She kept the past to share Thelma's story in the future.
Most people remember Doris assisting her friend, Thelma Feighery, at Thelma's Country Store. Doris recounts her experiences at Thelma's store in the book, sharing everyday interactions at the store over 70 years: 20 years when the Roberts owned the store, and the 50 years that the Feigherys' owned the store. Originally on Leesburg Pike, the store location became Colvin Run Road in the 1940s, when the Leesburg Pike was relocated to its current position and the old Leesburg Pike was renamed Colvin Run Road. As one of 7 local stores that served Great Falls prior to the opening of Safeway and 7/11, Thelma's was a local institution most fondly remembered for serving 23 flavors of hand-made ice cream to many of us. While helping customers in the store, Thelma and Doris maintained a personal warmth and sincerity that helped make Thelma's a uniquely memorable and pleasant atmosphere, which is difficult to find today. Through all the devoted interactions with customers, Doris has the presence of mind to keep artifacts for history's sake. It is thanks to her long-term commitment to gathering history that we have a story that gives a very real sense of what it was like to run a country store over a long period of time in the midst of profound cultural changes.
Doris contributed in other ways to local history: She has dedicated much time to the Great Falls Historical Society, serving on the Board of Directors as Recording Secretary over many years, Publications Committee Chairperson. In this role, Doris saw to the republication of several local books many of which were sold by her at the local farmers' market. Doris has contributed to the oral history collection and has organized programs such as Ghost Stories of Great Falls and Local Country Stores. Other work includes serving as Chair of entertainment for Great Falls Day, and leading the digitizing of local photos to create the GFHS Naomi Whetzel Photo Collection. Through these activities Doris has met or exceeded all requirements for the Tibbetts Award that we are so pleased to award her.
The Great Falls Historical Society was formed in 1977 to build community spirit by bringing the past into the present. GFHS would like to thank Karen Washburn and Kathy Pherson for serving on the Tibbetts Award Selection Committee, assisting me in this important work.
Award Banquet
The Tibbetts Award Annual Banquet will be held on Sunday, Feb. 26 at 4:30 p.m. at the Colvin Run Community Hall. If you would like to join in celebrating Doris's Award, you may reserve a seat at www.gfhs.org or mail in your reservation to GFHS, P.O. Box 56, Great Falls, VA 22066. Each ticket is $50 per person and, unfortunately, we are unable to accept payment at the door. The event will be catered and the meal will be a Banquet Buffet.