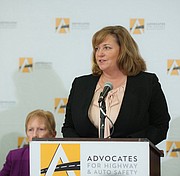 Report Card
Virginia's 2017 Highway Safety Laws Report Card
(Boldface type = credit; Regular type = missing law)
Occupant Protection
Primary Enforcement Seat Belt Law for all front seat occupants not enacted
Primary Enforcement Seat Belt Law for rear seat occupants not enacted
All-Rider Motorcycle Helmet Law in place
Child Passenger Safety
Child Booster Seats: Children who have outgrown the height and weight limit of a forward-facing car safety seat should be placed in a booster seat until at least age eight and 57 inches tall, not enacted
Graduated Driver's Licensing for Teens
Minimum Age 16 for Learner's Permit not enacted
6-Month Holding Period: A beginning teen driver must be supervised by an adult licensed driver at all times during the learner's stage. If the learner is citation-free for six months, he or she may progress to the intermediate stage, law in place.
Supervised Driving Requirement: At least 50 hours of behind-the-wheel training, including 10 hours at night, with an adult licensed driver. Not enacted.
Nighttime Driving Restriction: No unsupervised driving from at least 10 p.m. to 5 a.m. seven days a week. Not enacted.
Passenger Restriction: No more than one non-familial passenger under age 21. Not enacted.
Cell Phone Restriction: No use of cellular devices (hand-held, hands-free, text messaging) by beginning teen drivers, except in the case of an emergency.
Age 18 Unrestricted License: A teen driver is prohibited from obtaining an unrestricted licensed until age 18, and either the nighttime or passenger restrictions must last until age 18, not enacted.
Impaired Driving
Ignition interlocks for all drunk driving offenders
Child Endangerment Law: Penalties for people who drive while impaired with children in the vehicle.
Open Container Law not enacted
Distracted Driving
All-Driver Text Messaging Restriction
Source: Advocates for Highway and Auto Safety
Clifton resident Debbie Sausville represented Mothers Against Drunk Driving (MADD) at a recent Capitol Hill news conference where Advocates for Highway and Auto Safety (Advocates) issued "report cards" rating all 50 states and the District of Columbia on their progress toward adopting 15 optimal laws that scientific studies, data analysis and real world experience show are effective at preventing death and injury on roadways.
The D.C.-based highway and auto safety watchdog group unveiled its "2017 Roadmap of State Highway Safety Laws" report as a call to action for lawmakers in every state capital to close gaps in 15 laws covering seat belts, child booster seats, teen graduated driver licensing programs, motorcycle helmets, impaired driving, and texting while driving.
The Advocates' report rated each state Green (good), Yellow (caution) or Red (danger) based on the number of the 15 traffic safety measures enacted into law.
Advocates' vice president of governmental affairs Cathy Chase, a resident of Falls Church, revealed that, "Virginia received a Red report card and was rated among the worst performing states in the nation for having adopted only five of the 15 laws. The Commonwealth is lacking a front and rear primary enforcement seat belt law, booster seat law, six of seven teen driving provisions, and an open container law."
The neighboring states of Maryland, West Virginia and North Carolina earned Yellow ratings, and the District of Columbia and Delaware received Green scores.
In Virginia, 753 people died in traffic crashes in 2015, seven percent higher than the 703 fatalities in 2014. The annual economic cost of crashes is nearly $5 billion in Virginia.
Sausville's stepdaughter Lauren, at age 16, died in a crash in Fairfax County in 2004 after drinking underage. She had only obtained her driver's license three weeks earlier. Over the past decade, Sausville has volunteered with MADD to speak out for greater teen driving safety. She welcomed the new report for "putting a bright spotlight on dangerous loopholes in our laws through which children and adults are suffering needlessly," and called for "our state lawmakers to embrace these lifesaving laws to help keep families safe and whole."
Sausville praised Virginia for having already adopting two of MADD's priorities laws — an ignition interlock requirement for all drunk driving offenders and child endangerment penalties for those who drive drunk with children in the car.
"It is now time to finally ban the possession and consumption of alcohol beverages in motor vehicles in Virginia, which is already the law in 40 states and D.C.," Sausville said.
Chase pointed out that Virginia's seat belt law loophole allows back seat passengers to ride unbuckled and front seat belt use is still a secondary offense in the state, meaning that police cannot stop a vehicle just because an occupant is not buckled up. Front seat occupants can be ticketed for not wearing a seat belt only if the driver is stopped for another offense.
In 2014, Virginia's seat belt use rate lagged 10 points behind the national average of 87 percent.
An estimated 287 lives were saved by seat belt use in Virginia in 2015, but an additional 113 deaths could have been prevented if all vehicle occupants had been buckled up, according to the U.S. Department of Transportation (US DOT).
"Most states and D.C. have a primary seat belt law for front seat occupants," Chase said, "and their belt use rates are higher than secondary enforcement states like Virginia."
In 2016, states with primary enforcement seat belt laws for front seat passengers had a 92 percent average belt use rate, while belt use in states with secondary enforcement laws was 83 percent, according to US DOT data.
The Virginia-based Insurance Institute for Highway Safety (IIHS) has found that when states strengthen their laws from secondary to primary enforcement, driver death rates drop by an estimated seven percent.
The theme of the 2017 roadmap report is "Have We Forgotten What Saves Lives?" Chase said that "as a safety advocate and a Virginia parent, I hope the answer to this question is a resounding 'No.' This failing report card should serve as a wake-up call for our state policymakers to advance the 10 basic, effective laws we're currently lacking."
For more information, see http://saferoads.org/roadmaps/.