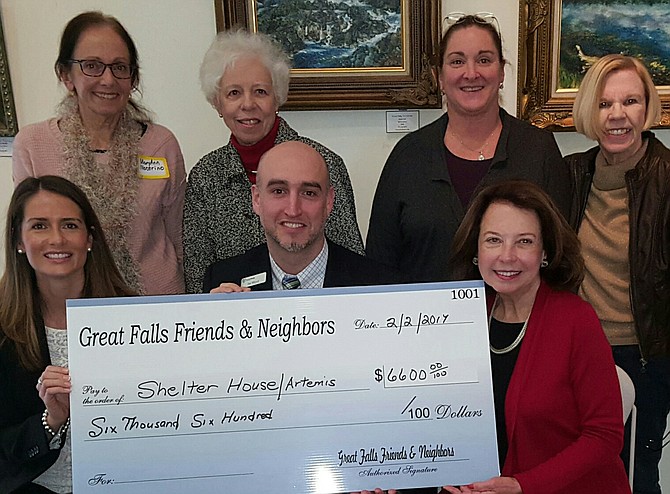 Great Falls Friends & Neighbors (GFFN) has announced that their annual White House Ornament sales for the 2016 holiday season raised $6,600 for Artemis House, Fairfax County's only 24-hour domestic violence shelter. The shelter is operated by the local non profit Shelter House, with administrative offices in Reston, which provides services for homeless families, and victims of domestic violence and human trafficking through Artemis House, the Patrick Henry and the Kate Hanley Family Shelters.
On Feb. 2, at the Monthly All-Club Meeting, members heard from Joe Meyer, Executive Director and CEO of Artemis House, and Director of Development, Jennifer Delessio, who discussed the organization's mission and how they help victims of domestic and sexual violence, and human trafficking in both emergency situations and with long term support.

After hearing about all the work being done for these endangered citizens in the community, the Great Falls Friends and Neighbors President and the White House Ornament fundraising committee presented Artemis House with the club's biggest contribution to date. Club members told the Artemis House representatives that it was wonderful to know that the club's philanthropic efforts really do make a difference.


Great Falls Friends and Neighbors would like to thank their Philanthropy group and fundraising team and the local vendors that offered the ornaments for sale at their establishments. Great Dogs of Great Falls, Studio Hair's two locations (Great Falls and Fairfax), and Burke Jewelers at North Point Village Center all supported the charitable mission. The club also offers its thanks to the many members of the community that support this cause. This year, the club sold a total of 750 ornaments and 100 percent of the profits went directly to the shelter.
The women of Great Falls Friends and Neighbors look forward to the continuing support of the community for this annual fundraising event.
More information about the Great Falls Friends and Neighbors is available on their website at www.gffnva.org.