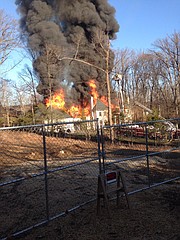 A fire destroyed a mansion at 818 Turkey Run Road on Saturday, Feb. 18.
Smoke alarms alerted the occupants to the fire and they all escaped unharmed, according to the Fairfax County Fire and Rescue Department.
Both the FCFRD and the Arlington County Fire Department responded to the scene to extinguish the blaze. The FCFRD posted a video of the fire on its Facebook page at 2:51 p.m. on Saturday, showing large and dark smoke clouds billowing into the sky from the blazing home.
In the video, you can hear a spectator ask, "Do we need to back up, like is it going to explode more?"
The 6,175-square-foot, five-bedroom, seven-and-a-half bath home is owned by the government of the United Arab Emirates, Armed Forces General Headquarters, according to county property information. The home, which was built in 2003, was also valued at $3.1 million, according to Zillow.
The fire is currently under investigation.