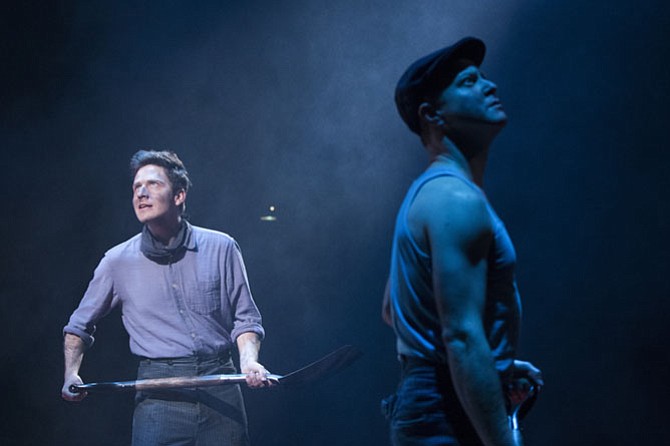 Signature Theatre in Arlington is staging the Tony Award-winning Best Musical "Titanic," a 360-degree production in the Max theater, from now through Jan. 29. The show by Peter Stone and Maury Yeston that won five Tony Awards in 1997 (including Best Musical) takes theater-goers on a ride through the final moments of Titanic's journey where 1,500 people lost their lives.
Larry Redmond plays the role of J. Bruce Ismay, who calls himself the "owner of the Largest Moving Object in the World." "He was the second generation leader of the company started by his father Ismay & Imrie Co. Ltd.," he said. "He sold the firm to J. P. Morgan in 1902 and became titular president of International Mercantile Marine, Inc. He was 49 years old when the Titanic sank. He knew the business from the ground up. And being a man of the late 19th century, he was a product of his times."
Redmond said his biggest challenge was reconciling the actual Ismay with what was written in the book and lyrics of the musical. "When you are an actor, you can't really fight the text. If you do, you will eventually be tripped up by it. So I had to find ways to bring the actual Ismay into the show," he said.
He said thanks to Bobby Smith and Chris Bloch, who play Andrews and Capt. Smith, respectively, as well as director Eric Schaeffer, he was able to mine a few nuggets of gold out of the text. "I got to investigate differences between American money and the English class system. In England, while he would be the owner of the ship, those in the "peerage" (Lords and Ladies) would still consider Ismay to be "In Trade," and therefore beneath them. No such distinction exists for the America first class passengers," he said.
He added: "I try to squeeze out little bits of character DNA from the tiniest exchanges in the script and the score. There are little treasures for Titanic history fans I got to put in. And depending on where you get to sit in the 360-degree staging, you might hear or see something someone else doesn't."
As far as audience takeaways, he added: "Besides the sumptuousness of the production and the glorious music? One expression sums this story up beautifully: Pride goeth before the fall."
Katie McManus plays two characters: Kate McGowan, a third-class passenger from Ireland, and Eleanor Widener, a first-class passenger from the U.S. "Kate is extremely independent, assertive, ambitious, and she only looks forward to the future. She's a big flirt and she knows what she wants," she said. She mostly plays Kate who is essentially fleeing Ireland because she became pregnant due to an affair with a married man. "So, needless to say, this was the perfect opportunity for her to seek a new life in the U.S.," she said.
The first-class passenger that she plays is Eleanor Widener, who is married to husband George Widener, the wealthiest man in Philadelphia whose hotel was the first Ritz Carlton. "I play alongside Stephen Gregory Smith (George Widener), and we have the best time on stage, developing our characters throughout the trip," she said.
She said the challenge in working on "Titanic" was learning all the complex music, and learning the intricate "dance" backstage (i.e., the quick costume and character changes, and also literally running all over the set and throughout theater).
As far as audience takeaways, she said: "I think most people immediately think of the ship and its sinking first, but I hope they learn about those on board and what they gave up and left behind (immigrants in third class, mostly) for a better life in the U.S. They are the brave ones."
Signature Theatre in Arlington is staging "Titanic" from now through Jan. 29. Show times are Tuesdays through Saturdays at 7:30 and 8 p.m., and weekend matinees at 2 p.m., and Sundays at 7 p.m. Tickets are $40 to $104. Speciality nights include Discussion Night on Jan. 10, 2017; Pride Night on Jan. 6, 2017; and Open Captioned Performances on Jan. 15 at 2 p.m.; and Jan. 17 at 7:30 p.m. The venue is located at 4200 Campbell Avenue, Arlington. Visit www.sigtheatre.org. Or call the box office at 703-820-9771.