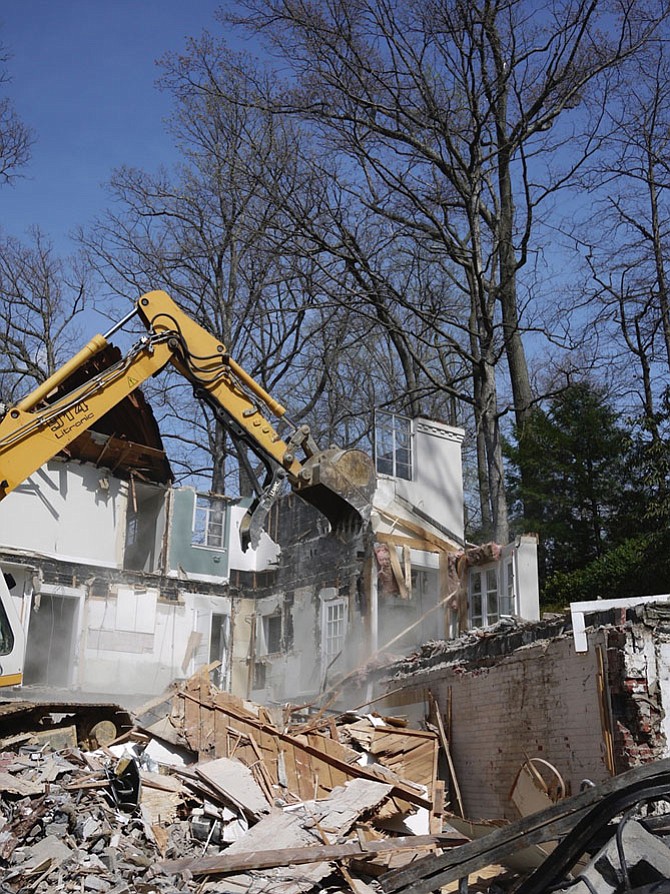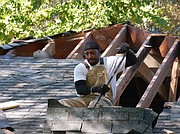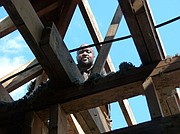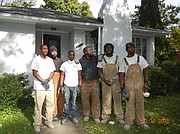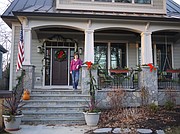 Six ex-convicts from Baltimore showed up at Diane Allard's 1949 vintage two-bedroom house on 22nd Street in North Arlington a while ago, holding crowbars, saws, hammers, and some rope. They were there to make off with anything that was, or was not, nailed down.
Diane and her husband Hunt Allard had searched for a year and a half to find a property in this neighborhood. They were overjoyed the crew from Second Chance had finally arrived. The six men proceeded to dismantle her home, board by board, nail by nail, door by door, tile by tile, until two weeks later, the house was down to nothing but its basement walls and foundation. Everything salvageable went to the warehouse at Second Chance, in Baltimore, including toilets, hardwood oak flooring, boards of every size, doors, knobs, chandeliers, and windows.
The Allards knew they wanted Second Chance to take their house apart. And they knew they wanted to do the "Arlington Green Home Choice Program" but they wanted a certain design of house too.
Allard had worked for 10 years as a contractor to the Department of Energy and some years ago wrote case studies on how to build homes in a greener way; it seemed like a no brainer that she and her husband Hunt would make their home as green as possible and part of that was not adding to a landfill as they made room for a new house on the property. And it wasn't just about the landfill: the tax savings were significant and they saved money on demolition costs.
According to Allard, "Green building is gaining steam in the Arlington area; but most builders just build the old way that they know. Finding the right builder to build our green home was a challenge in and of itself." There are also no incentives for builders to take down a home in a green way, so it's somewhat rare to find a builder willing to wait a little longer to deconstruct rather than demolish (only a home owner can get the tax deduction). The Allards got the name of Second Chance through an architect they had met. Once they realized the win-win situation that using Second Chance presented to them: making a tax deductible donation to deconstruct, paying less than demolishing would cost, doing something positive for young men who wanted to turn their lives around, and avoiding putting tons of materiel into a landfill: they were ready to sign on the dotted line. On top of that, the owner gets 15 points towards green home certification. The process of designing and building the house took 6-8 months; the zoning approvals took about three months. Permitting took several months as well.
The six men who took the old house apart brick by brick had been unemployed before they found Second Chance. When one gets out of prison, it's not easy to find work. The crew leader of the team, Taiwan Hill, spoke about himself to the Allards' friend, Arlington resident Romana Campos, who helped document the process. Hill said he has been with Second Chance for five years now. He had previously served as a general clerk 2 forklift operator but when he lost that job he was unemployed for three years. Hill said he has six kids and he wasn't able to support them when he lost his job. It was a terrible feeling. "I was living the wrong life," he said. "I was getting in trouble constantly. Before I came to Second Chance, I was in and out of the court system. Finally I came to a point where I wanted to change."
At Second Chance, he did 1,600 hours of training on how to take down houses. But he learned more than that. He acted as a spokesman for the company, did interviews, and gained confidence in his social skills. He got more than technical skills, he also got life skills. He received OSHA training. He learned how to manage a team. He travelled to different states as many as 13 times a year. He recently acquired a new job through the program "Jump Start" thanks to his time at Second Chance. Hill grins. He is making a lot more money, has better hours, and doesn't get so dirty.
"All the money goes back into our training," said Hill. "There is a donation by the owners of the house, and it goes to Second Chance. Then, we also sell the materiel we take out of the house at our warehouse. I have a son who goes to Bowie State University, a daughter at Newtown High who is a cheerleader, and my job has let me provide for them, and made my family strong. I've never looked back. Second Chance made a difference to a lot of our lives."
To learn more about Second Chance or take a field trip to their warehouse, which is, according to Allard, "mind boggling" given how much they have there, see http://www.secondchanceinc.org/. To learn more about building a green home, see Arlington Green Home Choice Program or Allard's blog.
The Allards' house is documented on the Allards' blog: www.ourgreenboomerhouse. They plan to grow old in the house, and made it not only green but "silver." There is no step in or up shower, there are no steps leading into the house from the driveway, there are low threshholds, the windows are casement style for ease of opening, and the toilets are higher. The bathroom and bedroom door openings are wheelchair friendly, and the door knobs are push-down for ease of opening. Their older relatives who are less mobile love to visit.
Arlington's Green Home Choice Program is a free, voluntary green home certification program sponsored by Arlington County. According to Allard, the county is actually one of the greener-focused places around; the state is way behind, but Arlington is progressive given they have the first net zero energy school.
The homes are awarded points for being energy and resource efficient, sustainable and for providing a healthy living environment. In addition to certificates, program participants are offered lawn signs, recognition by the County Board in an annual reception, media attention and builder and designer recognition on this website. For more information, see Green Home Choice Program.
According to the Second Chance website, in 2016 Second Chance created 142,800 labor hours, saved $3,046,060 consumer dollars, diverted 10,471,320 lbs of landfill waste and used 4,760 volunteer hours.
Donations to Second Chance range in the $17,000 range; to demolish a house costs about $25,000.
In the blog, Diane Allard discusses the appraisal process she had to go through, the design process, the age-in-place aspects, and the decisions about materials used.