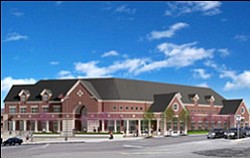 Fairfax — Dear Editor,
There will be a Candidates Forum on Monday, January 9, 2017, at the City of Fairfax Regional Library from 7:00 to 9:00 PM for the Special Election for Mayor in the City of Fairfax, sponsored by the League of Women Voters of the Fairfax Area. All three candidates, Michael J. DeMarco, David L. Meyer, and Eleanor D. "Ellie" Schmidt, have said that they will participate.
This is an important opportunity for residents to ask questions directly of the candidates about their concerns for the City of Fairfax. The public will also be able to meet individually with the candidates at the end of the question-and-answer session.
Winter is an usual time to think about an election, but this one is important to the residents of the City. All are welcome to attend.
The League of Women Voters dos not support or oppose any candidates for office or political parties.
Yours sincerely,
Sidney Johnson (Ms)
Voter Services Coordinator
League of Women Voters of the Fairfax Area