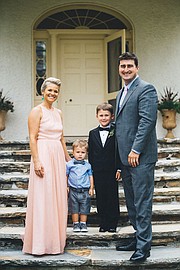 Arlington resident and entrepreneur Garrett O'Shea is using his new startup to help local residents, nonprofits and businesses with their shipping needs.
O'Shea, an Arlington resident of seven years, co-founded PockitShip in 2014. The business provides an on-demand moving service for heavy items across the greater Washington area via its mobile app and website.
"PockitShip was born basically over a barbeque," said O'Shea. He was talking with future fellow co-founder Steve Senkus. Senkus is a 20-year logistics expert who was working with a company called Nonstop Delivery.
Through his work with Nonstop, Senkus had facilitated heavy item delivery services for large companies like Home Depot, but he realized that there was a gap in the market for a similar service that would meet the needs of individuals and small businesses.
According to O'Shea, he was eyeing the "do-it-yourself market, people who are renting trucks from Penske and U-Haul because they don't have another option."
They began discussing what such a business model would look like and envisioned something like an Uber for delivery of heavy items, where customers could use an app to get accessible transportation for anything from a single item to an entire apartment's worth of furniture.
Senkus told O'Shea that he wasn't sure how to reach such a market. O'Shea replied, "I know a little bit about that. I've been doing it for 17 years."
At the time, O'Shea was working for RedPeg Marketing in Alexandria, where he had been since he first entered the marketing industry as an intern. He moved up through the company, taking on a variety of different roles.
After that initial discussion, O'Shea began to think that it was time to move on from RedPeg and take a dive into entrepreneurship.
After all, O'Shea had been working towards pursuing a greater role as a local leader and self-starter since his time in the Leadership Arlington program at the Leadership Center for Excellence.
According to Betsy Frantz, president and CEO of the Leadership Center for Excellence, the program is for "established leaders." Leaders who are already "making a difference in the broader community, already engaged," but who want a more "in-depth level of engagement."
Frantz emphasized that the program is about developing leadership qualities, but not for the sake of personal or financial gain.
"They brought us the vehicles and the manpower. They didn't want anything in return." — Master Sergeant David Pizana, coordinator, Washington area Toys for Tots program
"People don't apply to this program who don't have a heart wanting to give to others," Frantz said. "[O'Shea] wanted to be more connected to the community in a way that would be meaningful."
O'Shea recalled a particular instance during his time in Leadership Arlington when he went with his class to visit area schools. They visited Randolph Elementary in Douglas Park, and O'Shea was astounded by what he saw there.
"[The principal] showed us the track," said O'Shea. "It was a rainy, cold day. She said 'this is the track that the girls run on after school.' I asked her, 'what do you mean?'" The principal then explained that the local Girls on the Run chapter used the track for practice.
O'Shea said the track was muddy and run-down. He was told that the PTSA was working on raising funds to rebuild the track but was still about $10,000 short.
"[My heart] sank," said O'Shea. "[I thought], this isn't right. This is in Arlington County. If this was in my neighborhood, we would fix this."
He then began working immediately with his Leadership Arlington class to raise funds. They were able to do so in less than a year.
After the track was completed, O'Shea and his classmates joined the school and community members to celebrate.
"We walked the track with the whole school," said O'Shea. "It was so good to see this awesome new thing get done, and we helped it happen. I felt so connected to the community. It was really because of Betsy Frantz and Leadership Arlington."
Frantz also recalls that experience fondly and says that the effort was driven by a spirit of curiosity and innovation.
"A lot of people would have seen that track and thought nothing of it," Frantz said. "It's amazing what people can do if they are paying attention. [O'Shea and his class] allowed it to get under their skin. They chose to act."
Since that time, O'Shea has continued his mission of service, and has been using his resources at PockitShip to do so.
According to Abel Habte, the food inventory associate at Martha's Table, PockitShip has been assisting them in their efforts to reduce hunger in the Washington metro area.
"During the holiday season, we see a large spike in sandwich donations, which support one of our most well known programs, McKenna's Wagon," Habte said.
Maya Rubino, PockitShip's social media and events coordinator, contacted Martha's Table in November 2016, offering the use of their trucks to help deliver the sandwiches.
"Pockitship has been a huge help by stepping in and handling this pickup for us the past couple of months," Habte said. "They proactively work to make sure everything is in order for the pickup and proceed to deliver the sandwiches in a punctual manner each month. This has freed up my colleagues and I to stay on-site and focus our efforts on managing other aspects of the donation process."
Most recently, PockitShip used its resources to aid the U.S. Marine Corps Reserve Toys for Tots Program.
"It just happened serendipitously," O'Shea said. "We called to be a donation spot."
They were told, however, that Toys for Tots was no longer accepting additional donation spots. Rubino, who was reaching out to Toys for Tots on behalf of PockitShip, asked if they could help in some other way. She was told that they needed help transporting the toys.
"I love that my team knows to ask more questions," O'Shea said.
Thereafter, O'Shea used his PockitShip trucks to move toys for the charity on several occasions. Once for a large donation from Toys R Us for an event with First Lady Michelle Obama and then throughout the week leading up to Christmas for the major distribution of toys at RFK Stadium. The trucks transferred as many as 10,000 toys a day in order for Toys for Tots to provide holiday gifts to 18,000 area children.
Master Sergeant David Pizana, who coordinated the Washington area Toys for Tots program this year, praised the work that O'Shea and his PockitShip team did for the organization.
"It seemed too good for a company to want to offer so many services without asking anything in return," Pizana said. "They brought us the vehicles and the manpower. They didn't want anything in return."
He added that without the help of PockitShip, they would have had to rely on rented trucks and the few Marines directly involved in the organization.
"People think we have all this manpower," Pizana said. "We have 27 Marines. It's a collateral duty that we have. They were able to absorb that burden. Another dollar not spent on renting trucks is another dollar for a toy for a kid."
Despite his own dedication to service, Pizana seemed baffled that O'Shea and his team were so willing to provide their resources without any quid pro quo.
"I've been a Marine for 20 years and I've seen a lot," Pizana said. "There's genuinely nothing that they gained from assisting us. A lot of people will never know how much they did. They were a real class act."
Of course, PockitShip is a business and relies on regular customers to thrive. In addition to individuals using PockitShip to move items for Craigslist purchases and apartment moves, the startup has found a market among local Realtors and business owners.
Jennifer Powell, owner of the Arlington-based Powell Team with Keller Williams Realty, has been able to use PockitShip to enhance her business. According to Powell, the startup has become invaluable in the staging work her team does for all of their clients.
"We offer complimentary home staging for all of our listings," Powell said. "We have a warehouse of furniture and accessories that we deliver to our clients' homes, based on their needs ... I always know that I can count on them to be on time, professional and take great care when moving my items and interacting with my clients."
Local custom furniture designers and retailers have also found that they can trust PockitShip to deliver their hand-crafted items with care.
Martha Leone, owner of Martha Leone Designs in Herndon, restores vintage furniture with finishes and painted designs. Leone ships much of her work nationwide, but PockitShip has allowed her to reach local clients more easily.
"My clients can coordinate the delivery of their custom pieces through the PockitShip website or mobile app, where the interface is seamless," Leone said. "Their drivers take great care while wrapping and transporting furniture and are always professional and respectful."
O'Shea plans for the company to expand rapidly in the coming years. He aims to add Baltimore and possibly Philadelphia to their service area in the next year.
"I'm going to create a big brand," said O'Shea. "It's going to be a household name."
To see what Pockitship is all about, click here.