Chantilly — The Westfield Lady Bulldogs faced Potomac Falls in their last non-conference game in Chantilly on Jan. 3.
In the 1st quarter Westfield took an early 11-6 advantage after playing just one quarter.
In the 2nd quarter Westfield again outscored Potomac Falls 16-11, to take a 27-17 halftime advantage.
In the 3rd quarter Westfield scored 22 points and held Potomac Falls to just 8 points building a 24-point lead heading into the 4th quarter. Potomac Falls would cut into the lead in the 4th forcing Westfield coach Noel Klippenstein to put her starters back in. Potomac Falls would outscore Westfield in the 4th, 16-11.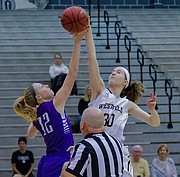 With the 60-41 win, Westfield improved to (6-6) heading into their first conference game of the year at Robinson. Westfield was led by Kirah Johnson's 18 points and Tory Martin added 12. Sami Knox (8 pts.) and Zakara Scott (6 pts.) each made two 3's, and Nicki McNamara (9 pts.) added another from 3-point range. With the loss Potomac Falls, falls to (2-7). Potomac Falls was led by Grace Deker and Mallory Levenhagen's 7 points.
Westfield also won an away game, their first conference game, versus Robinson on Jan. 6 ,45-35, to improve to (7-6) (1-0). Westfield will play home games against Centreville (9-3) on Jan. 10 and Oakton (12-1) (0-1) on Jan. 13.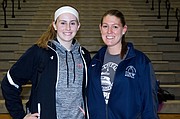 More like this story