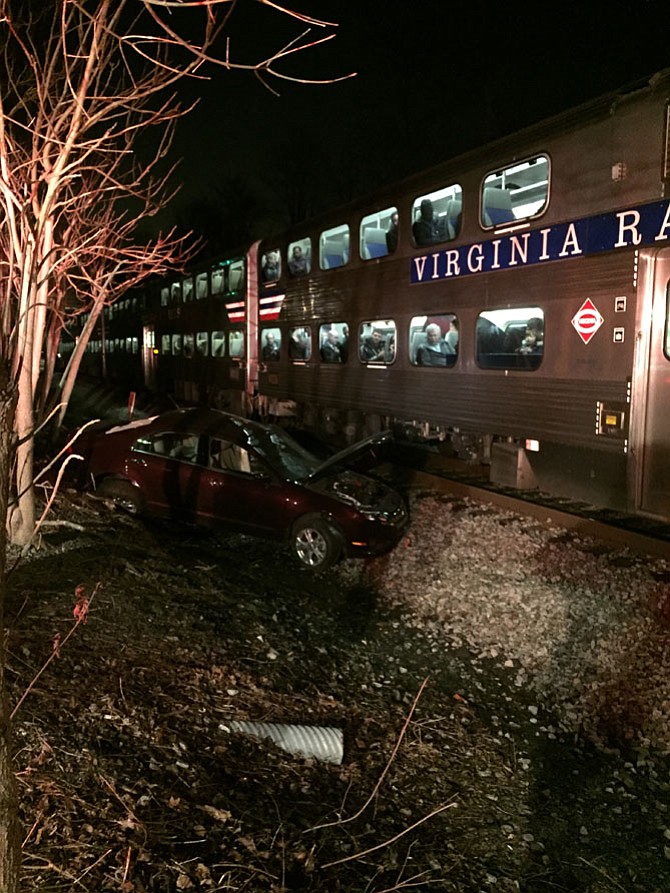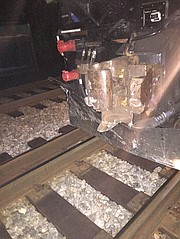 No one was injured after a Virginia Railway Express train struck a car that had become stuck on the tracks in Clifton on Jan. 5, according to Fairfax County Fire & Rescue.
The crash occurred in the vicinity of Clifton's downtown area, right near the Main Street Pub.
Firefighters from the Clifton Station 16 responded to a report of the incident around 6:04 p.m. The driver of the car met them and said no one else was inside the vehicle. She was able to get out safely before the impact.
The train's conductor told firefighters no one on the train was injured either. The locomotive only sustained minor damage, while the car was smashed and plowed off the tracks.
Clifton Mayor Bill Holloway said people have been talking about the danger of a car being stuck and struck by a train at that intersection for years.
"We're almost surprised it took this long to happen," Holloway said. He was on the scene for several hours while the train was stopped in the town.
"People were horrified," he continued. "The woman barely got out of the car in time. Thirty seconds and it would've been a very different discussion."
Holloway said with the high volume of traffic moving through town, especially during a weekday rush hour, the fact that there are no markings on the track to distinguish it from the road makes collisions like this almost inevitable.
Cars get stuck on the track fairly regularly, he said, also due to the fact that there's a steep dropoff on either side of the road -- asphalt is built up to meet the train tracks which are at a higher level.
Norfolk Southern transportation company manages the rails through the town, while the Virginia Department of Transportation is charged with road safety. For years Holloway said they've approached both entities about the problems but gotten nowhere.
"It seems like there are things that can be done," Holloway said, such as clearly marking where the road ends or putting up stop signs, "to reduce likelihood of these things. I hope this will be a catalyst to get all of them to say, it's in all of our interests to decrease the likelihood of this ever occurring again."
Holloway said he and Del. Tim Hugo (R-40) are working to set up a meeting with Norfolk Southern and VDOT.