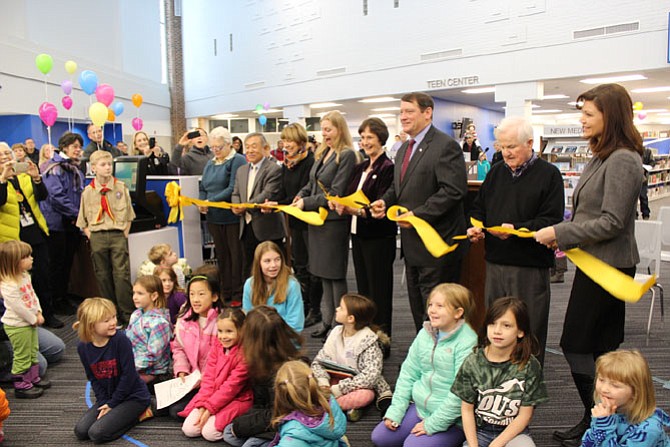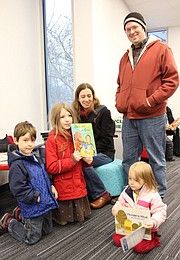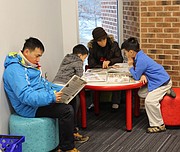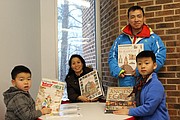 Pohick Regional Library celebrated its reopening Saturday, Jan. 7. People gathered for the official ribbon cutting and some children received sections of the ribbon as souvenirs. The crowd explored the newly renovated space accompanied by music from the Annandale Strings. Special events included a Maker Space with 3D printing demos, diy buttons and the chance to fly a drone. Children enjoyed face painting and a visit by Animal Ambassadors later in the day.
The most noticeable difference in the building renovations was the lighting. The library was bright, lit with energy efficient lighting, skylights and more windows. The color scheme was updated, blue accent walls throughout as well as a mural leading to the children's section. "It's brighter, more open, warmer and more inviting," said Nathan Clark of West Springfield.
Pohick is the first library in the Fairfax County system built with an "intentional teen space," Jessica Hudson, Fairfax County Library Director explained. The teen space is brightly colored with two large flat screen monitors for gaming. These were quickly discovered and the space filled with teens playing or watching the games, chatting with friends and reading.
Hudson also highlighted the wi-fi bar, useful for patrons that bring their own electronic devices. The community rooms have also been updated, providing more space as well as flexibility. Brightly colored and comfortably furnished quiet rooms were useful to numerous patrons interested in celebrating the Pohick's reopening by reading in a space insulated from the noise.
Although they didn't arrive in time for the reopening, Pohick is also the first Fairfax County Library that will receive AWE machines for the children's section, said Hudson. AWE Learning's Literacy Stations are designed for young library patrons to encourage early literacy through games and other interactive experiences.
The Nguyen family enjoyed the children's section, sitting at a table nestled near a window giving them a view of the falling snow. "I enjoy the family time and the chance to experience the wonders of Pohick Library," explained Khoa Nguyen, 9-years-old. "There's many new books and more options," said mother, Nhi Nguyen.
The renovation was possible due to a 2012 bond referendum passed by the voters. It provided most of the $7.1 million needed. "We engaged the community in discussion on how to renovate and create something new," said Sharon Bulova, Fairfax County Chairman, "I want to thank the voters for making this possible."