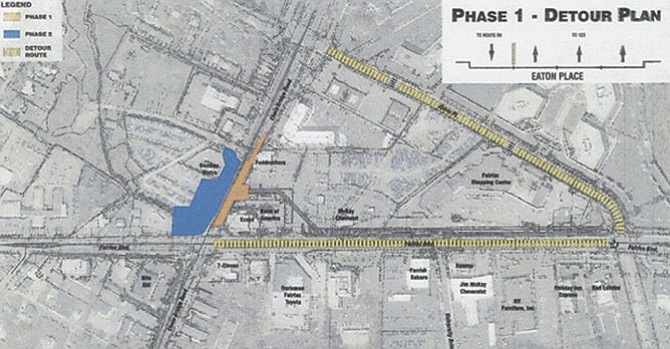 As part of the ongoing Northfax project, northbound Route 123/Chain Bridge Road is scheduled to be closed between Fairfax Boulevard (Route 29/50) and Eaton Place beginning Jan. 24.

Traffic on northbound Chain Bridge Road will be directed to turn right onto Fairfax Boulevard, then left on Eaton Place, before returning to Chain Bridge Road. Northbound Chain Bridge Road traffic will have access to I-66.
This detour is scheduled to continue through mid-December. (Dates are subject to last-minute change.)
Southbound Chain Bridge road will remain open.
However, beginning in late July, a lane shift will be in place on southbound Chain Bridge Road between Orchard Street to Fairfax Boulevard. This lane shift is scheduled to continue through late December.
This will affect CUE Bus riders who use the Green 1 Route.
The city has posted signage on Chain Bridge Road and Fairfax Boulevard announcing this detour. Drivers are encouraged to subscribe to Fairfax City Alert to receive road construction alerts via text and email.
Additionally, notices have been posted on the city website, and on Cityscreen-12, the city television station.
The Northfax project will provide road improvements and pedestrian accommodations, as well as eliminate roadway flooding, at the intersection of Route 123/Chain Bridge Road and Fairfax Boulevard. Construction will be completed in summer 2018.
Information: www.northfax.com, 703-385-7810.