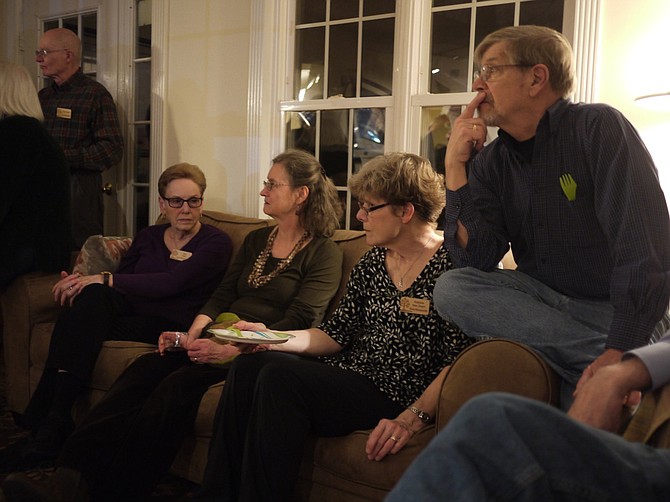 For a Tree Steward, having fun while protecting local trees is important. It's just that for a Tree Steward, fun means something a little different. At their annual potluck celebration of the new year, on Jan. 17, the Tree Stewards of Arlington and Alexandria planned some entertainment: There was wine, mulled cider, food, and speeches: Master Gardener Scott Ford, demonstrated how to use a whetstone to clean and sharpen bypass pruners, loppers, shovels and other gardening tools. Ford harked back to his grandparents' farm and how tools were sharpened back in the day. He demonstrated on the family shovel which has been in the Ford family for four generations.
The Tree Stewards kicked off their First Tree Steward Prognosticator Contest. Participants would predict whether or not the groundhog will see its shadow, and what the last frost date will be at National Airport.
Next on the agenda was Matthew Barker, Alexandria city arborist, providing a talk on "Champion and Notable Trees." Barker is on a mission: to find more champion and notable trees in this area. "Did you know there are 200 species of tree which do not have a champion? Or that 75 percent of champion trees are found on private property (like your back yard)?" he asked. That champion or notable tree is out there waiting for a local resident to find it, he said, and suggested a website on the ways a tree qualifies and an interactive website on where the trees are that have been identified.
Those who find a tree which is particularly big, or beautiful, or has significance can contact: Matthew.Barker@AlexandriaVA.gov or at 703-746-4654. Barker created this interactive map of Alexandria's Champion trees as well: http://tinyurl.com/ AlexandriaChampionTrees.
For Arlington, John Winogard said, there is also a map: . http://gis.arlingtonva.us/gallery/map.html?webmap=f0cf90bac9c6402cba26f6c556445a09
Tree Stewards is looking for new members: the annual training begins on Feb. 21. See https://treestewards.org/.