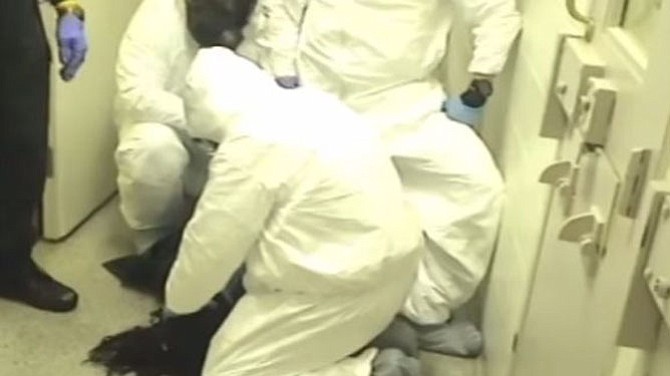 The death of a woman who struggled with mental illness at the Fairfax County jail is among the many recent controversies in Virginia correctional facilities, a reform effort that spans from changing how deaths behind bars are investigated to how law-enforcement officers interact with suspects who suffer from mental illness.
"When you talk to pilots about planes crashing, they don't say it's any one thing that happens. It's a multitude of things," said Del. Patrick Hope (D-47). "And each piece of legislation that we have will have some sort of stop gap to make sure that it doesn't happen again."
Back in 2015, an African-American woman diagnosed with schizophrenia named Natasha McKenna died after being hit four times at the Fairfax jail with a Taser stun gun while she was restrained. The medical examiner eventually ruled that she died from "excited delirium," although critics say that's a designation created to protect law-enforcement officials.
More recently, an inmate at the Hampton Roads Regional Jail named Jamycheal Mitchell, who also had mental illness, died of starvation. His family was in Richmond last week lobbying lawmakers to take action now.
"We plead with legislators to ensure that changes are made in the law to better protect young men like Jamycheal who suffer from mental illness," said Roxanne Adams, his aunt, during a press conference in Richmond last week. "We ask that real changes be implemented at Virginia jails to prevent another mentally ill young man like Jamycheal Mitchell from dying."
MENTAL-HEALTH REFORM is at the top of the agenda of lawmakers on both sides of the aisle yet again, prompted by the most recent cycle of tragedy and reform. But it's an old story, one that dates back to the deinstitutionalization of psychiatric hospitals decades ago. The last major round of reforms came after state Sen. Creigh Deeds (D-25) was attacked by his son, who struggled with mental illness and died from suicide immediately after the attack on his father. Deeds sought help for his son on the day of the attack but was turned away.
Since that time, Deeds has been engaged in an ongoing effort to reform mental health services, including reshaping the community service boards that provide those services in the Commonwealth.
"Because the changes are significant and costly, we have adopted a staged approach to implementation," said Deeds in a written statement. "The first step is to require same day access to service."
Democratic Gov. Terry McAuliffe put mental-health reform at the top of his agenda this year, mentioning it first in his list of priorities for the year. The governor's budget includes new funding to allow community services boards across the commonwealth to offer same-day service for people in the midst of a behavioral-health crisis. McAuliffe says that will allow them to serve Virginians rather than turning them away, as happened in the Deeds case.
"One result of our challenged mental health system is that too many individuals who suffer from behavioral health disorders wind up in jail, where there are not enough resources to properly care for them," said McAuliffe. "To solve that problem, I have proposed legislation and funding to expand mental health screenings in local and regional jails."
THE INTERSECTION of law-enforcement officials and people who suffer from mental illness is a major theme of legislation this year. One of the changes that's already receiving agreement from both sides of the aisle examines how these deaths are investigated. A Republican senator from Chesapeake is pushing for the state Department of Corrections to investigate all deaths behind bars, which he says will provide some consistency to a haphazard system that varies greatly from urban areas to rural parts of the commonwealth.
"It's not trying to point fingers," said Sen. John Cosgrove (R-14). "It's just trying to find out what may have gone wrong. Was there negligence on anybody's part?"
Cosgrove's bill, which has bipartisan support, would require the Virginia Department of Corrections to investigate all deaths, write a report and submit it to the General Assembly and the governor. That would apply for all deaths behind bars, which could clear up some of the confusion and ambiguity caused by investigations that happen behind closed doors and without accountability. The bill has received no opposition from sheriffs or police chiefs so far.
"There appeared to be an absence of responsibility and accountability for those reviews and investigations" said Brian Moran, secretary of Homeland Security and Public Safety. "So the governor has led with the Board of Corrections. They have expertise currently. They have some relationship with jails."
"We've had a number of deaths over the last year and a half that we know about, and who knows if there are others in the past. This is too much, and many of it is preventable." — Del. Patrick Hope (D-47)
ONE OF THE BILLS would replicate the concept of Fairfax County's Diversion First program at the state level, giving law-enforcement officials more discretion to help a suspect find help rather than locking them up behind bars. The bill, introduced by Hope, would give officers the ability to transport suspects to a crisis-stabilization unit in misdemeanor cases if the officer believes the suspect suffers from mental illness. That would include misdemeanor cases when victims want to press charges.
"This is a bipartisan effort, and I can't stress that point enough," said Hope. "We've had a number of deaths over the last year and a half that we know about, and who knows if there are others in the past. This is too much, and many of it is preventable."
Sen. Barbara Favola (D-31) has introduced a bill that would require mental health training for all correctional officers at Virginia jails. The idea is that they would be able to recognize the signs of mental illness — signs like Natasha McKenna biting Alexandria officers who responded to a call for service or Jamycheal Mitchell slowly starving behind bars after being incarcerated for stealing $5 worth of snacks.
"Now is the opportunity for us to make our voices heard," said Favola. "It's sometimes so unfortunate we have to suffer a horrific tragedy to move the policy agenda forward."