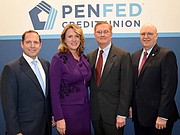 Several hundred local business, political, community and military leaders joined PenFed Credit Union Tuesday evening, Jan. 24 to inaugurate its new headquarters in Tysons Corner.
The state-of-the-art facility will accommodate the country's second-largest federal credit union's rapidly growing business and employee base. PenFed manages $21.3 billion in assets and employs more than 800 people in the Washington, DC metro area. Last year, PenFed hired 348 people in the DC area. The $180 million new headquarters at 7940 Jones Branch Drive will accommodate up to 500 employees and provides PenFed with room to grow over the next 15 years as a major employer in Virginia.
Northern Virginia's 10th district Congresswoman Barbara Comstock was among those in attendance who spoke at the event.
To learn more about PenFed Credit Union, visit PenFed.org