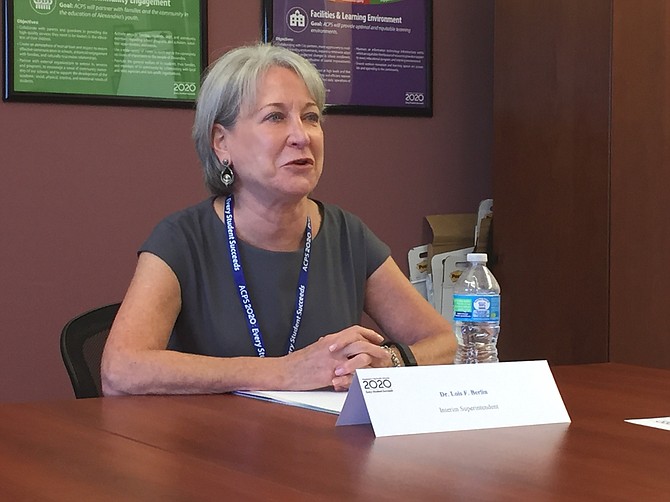 Dr. Lois Berlin was retired. After 31 years working in education, she stepped down in 2011 as superintendent of Falls Church City Public Schools with every intention of staying retired. But Berlin said when the opportunity opened up to temporarily replace Dr. Alvin Crawley as interim superintendent of Alexandria City Public Schools, it was too much to resist.
"I'm thrilled to be here," said Berlin. "It feels like coming home. "
Berlin started her career in Alexandria schools as a teacher in 1980, eventually becoming assistant principal at Cora Kelly School for Math, Science and Technology, then principal of Jefferson-Houston Elementary school and later George Mason Elementary. She left ACPS in 2004 to accept a position as superintendent in Falls Church.
"I wanted to do this," said Berlin. "I had such good years here. I missed Alexandria. I missed the diversity."
Berlin is returning to a school system in the middle of a transition. ACPS has been in the middle of developing its 2020 strategic plan, redistricting, and several major school renovations. Berlin said she is continuing to work alongside Crawley to get everything organized and get to know the school community.
"It's been 13 years, I need to get to know everyone," said Berlin. "One of the key changes is going to be meetings for everyone. The key is going to get nearly everyone involved."
While Berlin promised to advocate for every child in ACPS, several of the schools that were Berlin's alma mater face critical and academic situations. At Jefferson-Houston, a school still struggling with grades and currently unaccredited, Berlin said the school system needs to look at the data available on the school and reassess which programs are and are not benefiting the students.
Berlin's contract lasts until Jan. 31. School Board chair Ramey Gentry said the search is currently underway for a new superintendent. According to the contract, Berlin will be making $20,000 per month, with an additional $2,000 transferred to Berlin's retirement account. Crawley started in 2014 with a yearly salary of $215,000, increased each year with other instructional employees by a market scale adjustment, as well as $25,400 each year to a retirement fund.
In the meantime, Berlin said she doesn't see her job as superintendent any differently for being an interim position.
"Facilities are a major focus of the 2020 plan," said Berlin. "We have a good process for planning in place."
Berlin also said that she and others in ACPS leadership are looking cautiously at the national level discussion about medicaid. Funding for schools for special education programs comes largely from Medicaid funding.
"We are watching this with great concern," said Gentry.
"[If we do face a Medicaid cut,] we will have to look at the data and the priorities," said Berlin. "We will all be watching the signs closely."