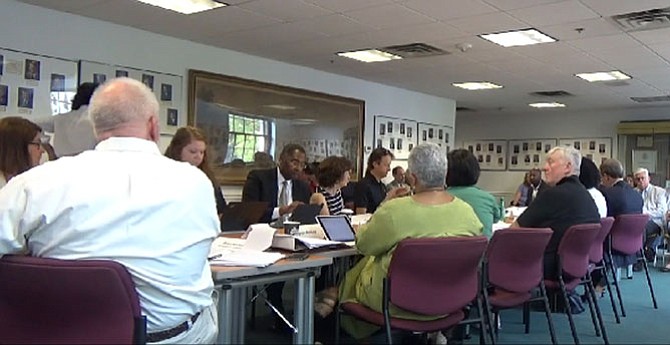 The new Ad Hoc Joint City-Schools Facility Investment Task Force started zeroing in on specific capital projects at its second meeting, held July 13.
The Task Force's "mission is to oversee the development of a Joint City-Schools Facility Capital Improvement Plan (CIP) for the city and schools and provide recommendations related to further capital project implementation," according to the resolution that established it. City Manager Mark Jinks selected nine citizen-volunteers with relevant professional expertise and management acumen. The initiative emerged as a way out of the City Council and School Board's capital planning gridlock.
The Task Force received a run down at the meeting of 33 facility projects, including 16 city projects and 17 schools projects, targeted within the FY 2019-2027 timeframe. These are forecasted to cost $645.2 million. That leaves a funding gap of $106.2 million, of which $70.4 million (66 percent) are "frontloaded" in the first three years, according to Morgan Routt, the city's budget director.
The Task Force again deliberated project prioritization criteria in relation to the scope of its mandate.
Potential criteria discussed so far include: consistency with adopted policies and plans, including strategic plans; cost, including evaluation of alternatives and potential for coming in under-budget; demonstration of timing and need, including school enrollment forecasts, facility conditions, design standards, other legal requirements; extent of benefit; systemic relationship to other community plans and goals; relationship to other projects, including relative necessity, trade-offs, and practicability of co-location; readiness for construction; impact of building or not building on the operating budget; consequence of delaying; flexibility/adaptability for future repurposing; and the city and school system's rationale and biases for current proposed prioritizations.
Some criteria are objective — for example, education specifications or environmental regulations. The city has also dictated certain financing constraints — "the Task Force can get ahead of the existing funding availability by no more than 10 [percent] in any given year," said Routt.
Other criteria may be subjective — what Task Force member Mignon Anthony described as "adjectival" or "value-based." In this vein, the Task Force currently has substantial latitude in how it applies the city and schools' top-level plans. The city's 2017-2022 Strategic Plan consists of 10 "thematic areas." And the city's corpus of master plans consists of numerous elements, which may conflict in any given context. Independently, the school systems' 2015-2020 Strategic Plan consists of six "goals." Neither the council nor School Board has explicitly delineated their relative priorities within these frameworks.
The school system has purposely not ranked its strategic goals in order of precedence, says School Board Chair Ramee Gentry.
"Certainly the facilities and learning environment [goal] is the most germane one" in this moment, she said. But "these are all essential elements to a successful school division. … It's a strength of all of these bodies that are deliberating that we don't all have an exact uniform idea. The strength comes out of all of the different people that might come to the table with different things that hold a particular place in their heart or a particular passion."
In any case, she says the School Board's strategic priorities are clearly embedded in its budgets over the years and, the 2015 Long Range Educational Facilities Plan, and the 2017 redistricting plan. The school system also tracks objective indicators, giving some clue about its relative strength and weakness in relation to each of its strategic goals. For instance, in the 2015-2016 school year the school system performed best (100 percent of indicators met) with respect to staff and operations; it performed worst with respect to family and community engagement (33 percent of indicators met).
The city also uses objective indicators. But, since the city only recently adopted its strategic plan, it cannot yet tell where there has been progress or regression. The city is currently developing an online tool for publicizing data, says Chief Performance Officer Greg Useem.
The Task Force could also affect how top-level plans change.
"To me it's a two-way street. You don't develop a strategic plan in a vacuum. You actually have your financial situation in mind as you're doing it, and it becomes an iterative process. … I think one of the values that could come is that there's that feedback loop," said Task Force member Eric Wagner. "We may have to adjust what our vision is to accommodate what our pocketbook is."
Overall, council doesn't want to be "overly prescriptive about what we're expecting," said Vice Mayor Justin Wilson.
"We'll have time to react in the fall when they get back with recommendations," said Gentry. "They would need to explain why project X is coming before project Q and project B."
Potentially more efficient alternatives were a recurring theme at the meeting.
Developing "swing space" is a lynchpin for subsequent projects and a top priority for the school system, said Richard Jackson, the schools' interim chief operating officer. Swing space is a temporary facility where students would attend classes while their permanent schools, starting with Douglas MacArthur Elementary School, undergo renovation. The school system foresees using the Nannie J. Lee Memorial Recreation Center in southeast Alexandria. But Task Force member Dwight Dunton suggested, and Jackson agreed, that it would be better to locate swing space on the West End, where it could eventually become a new permanent school.
Dunton also inquired about possibly combining new elementary and middle school capacity in K-8 sites, and acquiring a more modern building for city hall rather than renovating the existing facility.
He asked supporting staff to provide a full list of previously considered but rejected project alternatives. The Task Force ought not to be "limited to this very curated list of solutions," he said. "We may, as a group, decide that we really recommend that an alternative that's been passed over needs to be put back on the table."
The Task Force also discussed the potentially improving efficiency through regional collaboration.
"To what extent do we try to work with the neighboring jurisdictions on things like fire stations?" asked Wagner. The Task Force's list of projects includes building three new fire stations, forecasted to cost $41 million. The fire department already collaborates operationally with adjacent departments. But Wagner suggested that crosstalk might also extend to capital planning. The Task Force will also consider a new indoor firing range for law enforcement training, forecasted to cost $25 million. Task Force Chair Lynn Hampton suggested that this project might provide another opportunity for inter-jurisdictional partnership. Though paying officers overtime to commute to a regional facility would strain the operating budget, said Jeremy McPike, the city's general services director.
The Task Force will meet again Sept. 7, 9-11 a.m. at City Hall, Room 1101. Residents wishing to give public testimony should contact planning and zoning's Katherine Carraway at katherine.carraway@alexandriava.gov or 703-746-3855. For more information, visit www.alexandriava.gov/planning/info/default.aspx?id=97580.