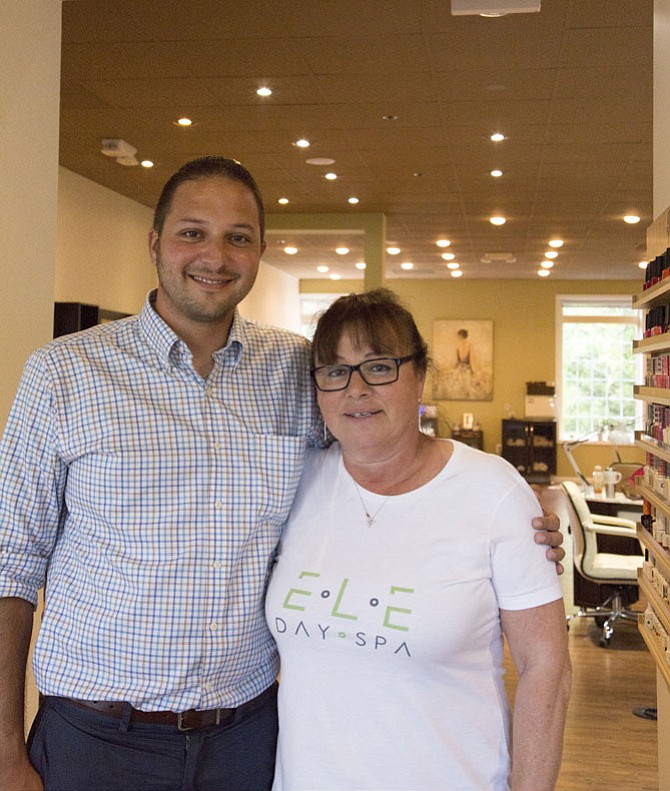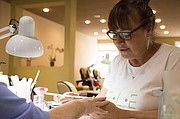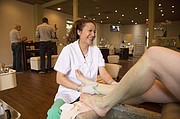 A new beauty salon opened for business in Great Falls, but the woman running the shop is by no means a novice to her craft or the area.
The E.L.E. Day Spa opened on Saturday, July 15, at 10135 Colvin Run Road in office space across the street from Leigh Corners and next to the Great Falls Animal Hospital.
Loyal customers showed up to receive services: Hairdressing, makeup, manicures and pedicures and other cosmetic treatments. The reason they were so eager to support the salon is all in the name: "E," "L," "E."
It's an acronym for the first names of Lutfiye "Lucy" Yilmaz and her two sons, Erkan Hayiroglu and Emir Hayiroglu.
"We don't care which order the 'Es' are in, but the 'L' is bigger," Erkan said. "She's the main person and the reason that customers come in."
Lucy Yilmaz has been a licensed cosmetologist since 1987, according to the Virginia Department of Professional and Occupational Regulation, and has been a nail technician for even longer. She began studying the art and science of decorating people's fingernails and toenails in Turkey before she immigrated to Virginia in 1980.
After working for years in Vienna, Yilmaz opened her own studio, Nail Studio, on Walker Road in Great Falls in 1989, but closed it down in 1994, before moving and opening another studio, Nail Studio & Day Spa, in Reston in the North Point Village Center.
Her Reston establishment accumulated 28 reviews on Yelp.com, a website that crowdsources reviews about local businesses, before it closed down.
OVERALL, comments, photos and ratings from reviewers were positive.
Now that she has returned to Great Falls, she intends to run a "family-oriented" and "tight-knit" paradise for her loyal clientele to relax and unwind. She also hopes to meet new customers in need of her skills.
"I love being around people and I cannot be behind a desk," Yilmaz said. "I have to talk to people and I love making them beautiful."
Her heritage and her passion for people was on full display during the grand opening as she bounced around the new salon and performed services while pushing complementary Turkish hors d'oeuvres: Borek, a pastry stuffed with spinach and Feta cheese, and baklava, a layered pastry filled with chopped walnuts and almonds, soaked in honey and garnished with ground pistachios.
The Turkish food was catered by Borekg Homemade Turkish Food in Falls Church. Patrons were also offered other snacks and drinks, along with free eyebrow threading or waxing services during the grand opening.
"I've been going to Tiffany for seven years," Rachel Semanchik of Reston said as pedicurist Tiffany Huynh was rubbing a green masque onto her legs. "I go to Lucy too for my eyebrows. They're worth following."
Joan Barrow of Great Falls also raved about Yilmaz's homecoming.
"I've been a client for a while," Barrow said. "I came for years and then I moved downtown [D.C.] and it was just too far. But now I'm back," she exclaimed as Yilmaz was working on her fingernails.
Yilmaz was painting Barrow's nails with polish from LeChat's Perfect Match Mood Gel Polish line. Like mood rings, the polish reacts and changes color based on the temperature of the wearer's nails.
"I'm going to Vegas," she said, justifying her more playful "Deep Sea" polish, which transitions from a faded red to a deep blue.
"They let you soak and then the scrub was so good," Monica Walker of Reston said of her lavender spa pedicure. "They heated the [paraffin] wax. You have the warmth soaking into your bones."
Walker, an engineer who has been following Yilmaz since 2006, said the treatment helps with her arthritis.
"It had some thermally-conductive properties," she said.
Jenny Groff of Reston has been seeing Yilmaz for 20 years and was treated to an eyebrow threading during the grand opening.
This hair-removal technique uses cotton or polyester thread that is doubled, twisted and then rolled over areas of unwanted hair, plucking the hair from the follicle.
"It doesn't hurt as much as waxing," Groff said as Yilmaz carefully twisted cotton thread against her skin. Yilmaz pulled the lines of the thread taut with both hands and at another end held in her mouth. This technique is sanitary because the portion of the thread never leaves her mouth during the procedure.
Patrons can also get their hair dressed by Engin Bozkurt, the studio's master hair stylist, who previously worked at the Toka Salon & Day Spa, which has locations in Washington, D.C., New York, and Alexandria and Great Falls.
HAIRDRESSERS at the salon use the full portfolio of hair color, haircare and styling products from Goldwell, according to Bozkurt.
The salon uses VOESH of New York's "Pedi in a Box Deluxe 4 Step" aroma spa set for its pedicures, which include ingredients for a sea salt soak, foot scrub, mud masque and massage lotion that are scented in a variety of smells: Lavender, green tea, olive oil, cucumber and more. The products are vegan and paraben-, triclosan- and cruelty-free.
"You grab a flavor and smell and if that's what you want, we use it," Yilmaz's son Erkan Hayiroglu said. "They are individualized for customers and each come with plastic liners."
To ensure a clean and hygienic experience, employees also sanitize the tubs after each use, in addition to lining the tubs, according to Hayiroglu.
The salon uses OPI, Gelish, DND, LeChat, SNS and other brands for its nail polish, gel and shellac and en Vogue gels for sculpting, according to Yilmaz.
Yilmaz also provides permanent makeup services for her clients and performs a procedure called microblading on eyebrows. The procedure is a meticulous, two-hour process that fills brows out or reshapes them by drawing on tiny lines that look like individual hairs with a hand-held tool. Numbing and sanitizing ointment is spread over the area before Yilmaz uses the tool to blade pigment into the skin for a semi-permanent tattoo that fades over 18 to 24 months.