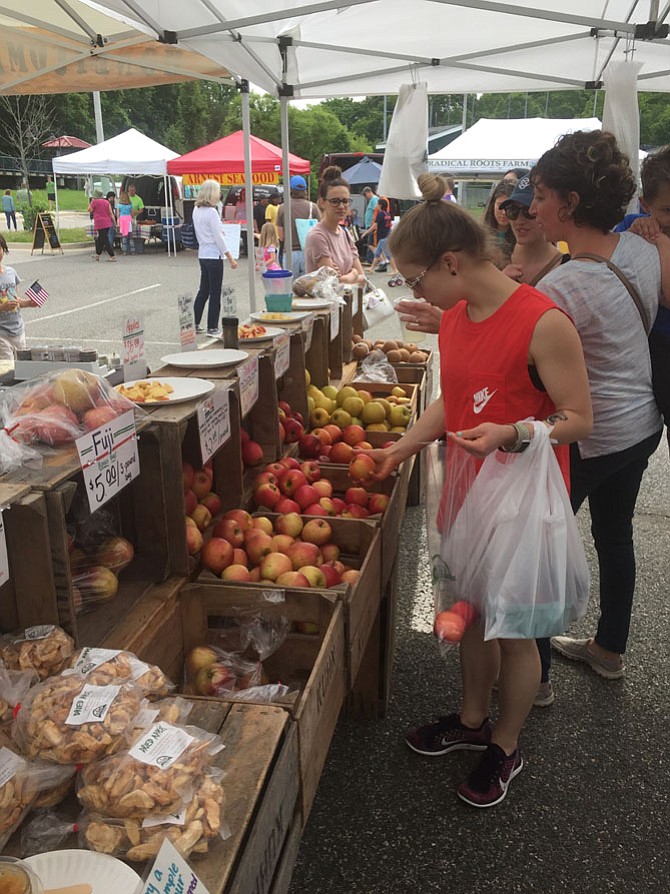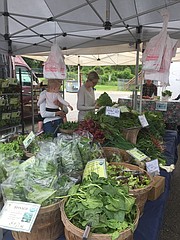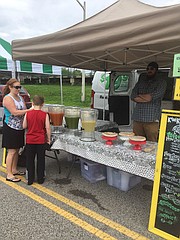 Tis the summer season for fresh blueberries, carrots, cucumbers, strawberries, tomatoes and much more. These in-season fruits and vegetables are all available at the Burke Farmers Market located at the Burke VRE parking lot every Saturday from 8 a.m. to noon, until December 16.
Among the fresh produce at different tables set up, Seth Stauffer from Radical Roots Farm said popular items usually line up with what is in season at the moment.
"People have been getting a lot of spinach," added Stauffer, a Harrisonburg local.
Other local farmers who are present at the Burke Farmers Market include Mt. Olympus Farm, Spring Valley Farm and Orchard, Honey Brook Farms and Glascocks Produce.
Kuhn Orchards provide visitors with an array of apples to choose from. Gold Rush, Crimson Crisp and Honey Crisp are just a few of the many offered, Honey Crisp being the most popular. In addition, shoppers could also purchase strawberries, canned peaches, rutabagas and apple cider at the Kuhn Orchards tent.
Allan Miller, a West Springfield local, tries to attend farmers markets twice a week.
"We've gotten strawberries, tomatoes, lettuce, cucumbers, cauliflower, potatoes, fresh basil, and a piece of cherry pie," said Miller. "Whatever is in season we go for."
Miller likes to use the fresh ingredients for salads most of the time; the potatoes were purchased for a potato salad they planned on making later in the day.
Besides the produce, the Burke Farmers Market has additional food available for purchase on display by other vendors. These include Honeycomb Heroes, Kylie's Pop Shop, Great Harvest Bread Company and Salsa Las Glorias.
Early into the day, Kylie's Pop Shop sold out of vanilla and red velvet cake pops. Owner Kylie Powell usually brings five flavors out with her every week: vanilla, chocolate, lemon, red velvet and chocolate chip.
Set up next to Powell's cake pops is Great Harvest Bread Company with a plethora of different kinds of bread out for shoppers to choose from. In addition, to the premade loaves and rolls, scone mix is also available for purchase at their tent.
Fresh Crunch, out of Falls Church, puts a spin on the everyday pickle, offering jars to market-goers in a variance of flavors from garlic to old bay. Sauerkraut, carrots and beets are also available for purchase from Fresh Crunch, coming in their own different flavors. Each can be sampled before purchase.
Salsa Las Glorias offers five styles of salsa and a tub of guacamole for purchase. The types of salsas include mild, medium, hot, Pico de Gallo and hot habanero. Sampling is encouraged.
Other tents such as Arnest Seafood, Sweet Nuna Middle Eastern Delicacies,
Blue Ridge Dairy Co. and Kiwi Kuisine give shoppers a break from the typical produce every farmers market has.
The Burke Farmers Market not only provides shoppers with fresh ingredients to include in everyday cooking, but also offers other food features like middle eastern hummus, deviled eggs with crab meat and an assortment of cheeses.
For more information about participating vendors, visit www.fairfaxcounty.gov/parks/farmersmarkets/.