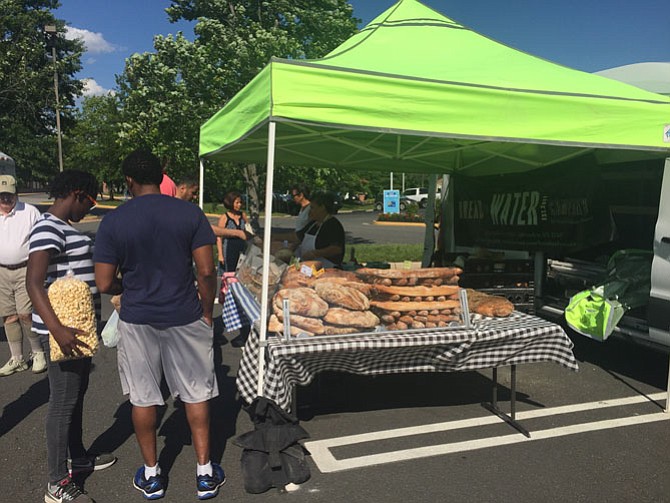 Although the Kingstowne Farmers Market is smaller in size compared to
other markets in Fairfax County, its taste is nothing less. Every Friday from 4 to 7 p.m., in the Kingstowne Town Center, vendors line up and put their products out for sampling and purchasing.
Among the present farms were C&T Produce, Elda Gardens, Linda Vista Farm and McCleaf's Orchard. Each tent providing their own array of fresh crops ranging from strawberries to lettuce.
McCleaf's Orchard, out of Biglerville, Pa., displays beets, asparagus, Fuji apples, broccoli, cauliflower and other fresh produce for the public to buy. Koby Griest, an employee of the vendor, said the most popular product is "usually the fruits during whatever season they're in."
Kiwi Kuisine, out of Alexandria, put their own spin on fresh fruits and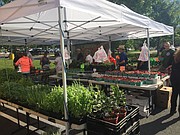 veggies by blending them together into different juices. To name a few: "Crazy Carrot" contains carrots and passion fruit, "Red Dragon" is made from red beets and "Kiwi Monster" has kiwi and kale.
In addition to their juices, Kiwi Kuisine offers their signature meat pies to visiting shoppers. They vary in ingredients. For example, market-goers can choose from steak and garlic mushroom, roast lamb, curry chicken or spicy veggie.
Also present at the Kingstowne Farmers Market is Kiko Frutti, offering all natural frozen fruit pops. Thirteen different flavors are available ranging from watermelon raspberry to pina colada. Each pop goes for $3 or 10 can be purchased for $27.
The Inside Scoop parks its food truck in the lot, offering shoppers cold treats in the heat of the day. Ice cream cookie sandwiches, sundaes and milkshakes are just some of the treats present.
Colonial Kettle Corn also takes part in the market. The Springfield-based company cooks up its kettle corn on the spot for that carnival feel on an everyday Friday afternoon.
Likewise, Sweet Nuna Middle Eastern Delicacies, Kylie's Pop Shop and Salsa Las Glorias are all present at the farmers market. Visitors can swing by each tent for a completely different experience. Sweet Nuna sells hummus, baklava, tabouli, lentil soup and pita bread/chips. Kylie's Pop Shop offers a selection of different flavored cake pops. Salsa Las Glorias puts out varying styles of salsa and guacamole for purchase.
"We come here every week, we love the community that's here," said Alexandria local Elizabeth Krantz. "Since we come every week we know a lot of the people and vendors, they recognize us and know our orders."
Celebrate Me, a dessert bakery out of Woodbridge, offers macaroons, mini sugar cookies, cupcakes and cheesecake in a jar. In addition, information is given out at its tent regarding cake and cookie decorating classes.
The Kingstowne Farmers Market will be running until Oct. 27.