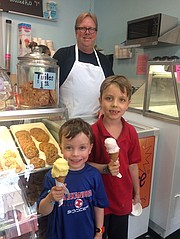 "I love this place. I have no desire to change it." — Russell Gravatt, new owner of The Dairy Godmother
When Liz Davis reopened The Dairy Godmother in March following her usual winter hiatus, its future after 16 years on Mount Vernon Avenue was still uncertain. But no longer. Davis officially announced that a new captain will be at the helm of the beloved Del Ray custard shop.
"I have known Liz ever since she opened this place," said new owner Russell Gravatt while serving customers June 13. "When I heard she was thinking of closing the shop, I called her right away and said 'We have to talk.'"
Gravatt, who hails from Bethesda, is no stranger to the food service industry or to Alexandria.
He opened the former South Austin Grill on King Street and for the last four years has worked as an event chef for Design Cuisine in Shirlington.
"This is a lot of fun," Gravatt said. "Liz had 16 years of success so there isn't anything I need to change."
Gravatt said he is still getting comfortable as the new owner although regulars will still see the same familiar faces behind the counter, including Davis.
"Liz will be around all summer," Gravatt said. "And the staff will not be changing. At this point they are all bossing me around," he added with a laugh.
Gravatt will continue with the "flavor forecast," which alerts customers to the daily flavor specials. And he is looking forward to getting settled in the neighborhood.
"I love this place," Gravatt said while tending to the usual line of customers. "With Liz, The Dairy Godmother has been perfection. I have no desire to change it."