Vienna — The June 16 reception for the Vienna Arts Society June exhibition brought in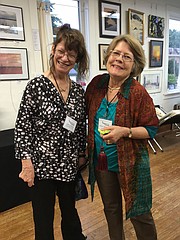 approximately 30 artists and guests to view art pieces interpreting "From Dawn to Dusk." Photographer and society member Julie Cochran was honored as Artist of the Month, her images featured at Vienna Arts Society's Village Green gallery. Cochran calls her exhibit "Lotus-Palooza."
Pieces in the exhibition at the Art Center at 115 Pleasant St. N.W., cover a range of media, from oils and watercolors to photography and paper collage. "Dawn to Dusk" runs through the end of June. Vienna Arts Society artists bring the colors and light of morning and its journey to evening to life in more than 25 visual interpretations.
Cochran is challenged by cerebral palsy but meets the challenge head-on with grace and resolve. Although she is at a stage where she can no longer firmly hold a camera, she uses a tripod to steady her aim, resulting in her crisp and natural images. Since taking her first art class in 1993, Cochran has gone on to win photography competitions and to be accepted into juried art shows. Lotus-Palooza celebrates the lotus blossom through color and form.
To learn more about the Vienna Arts Society and its classes and programs, go to www.viennaartssociety.org or call 703-319-3971.