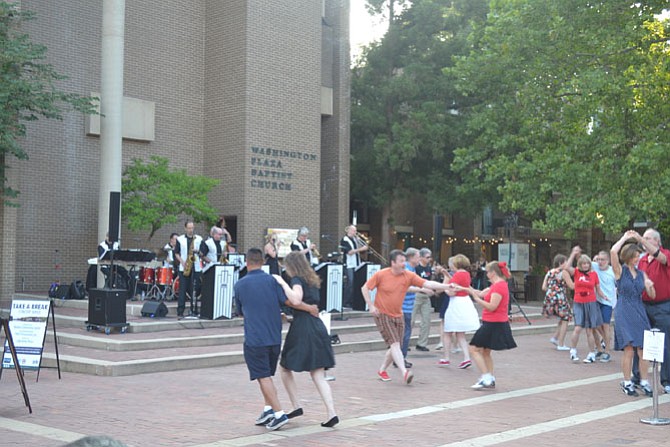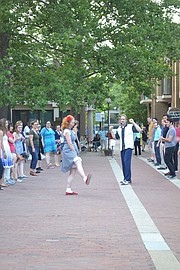 The Take a Break Concert Series at Lake Anne Plaza kicked off with its first performance Thursday, June 15. Radio King Orchestra performed Big Band music for all in attendance to enjoy.
The concert series is presented by Reston Community Center and hosted by Lake Anne Plaza. Kevin Danaher, Community Events Director for Reston Community Center, expects this season to contain a variety of music that will appeal to many different people. "When I book all these different acts, I try to cover as many different genres as I can," Danaher said. In addition to covering many genres, this season's selections include three additional dance nights.
Thursday's dance night included a short demo and lesson by Sue and Gary Caley from Gottaswing. People in attendance were invited to participate in the free lesson and learn to swing dance.
Wei Kent attended the concert with her daughter, one of the dancers. Kent enjoyed listening to the music and watching the dancers. This was her first time watching her daughter swing dance, and she found Lake Anne to be a nice place to sit outside and listen to music.
Throughout the evening, the dance floor was filled with dancers of every level. As the band played Big Band hits by Frank Sinatra and Glenn Miller, concert attendees rock stepped and spun along. Some other songs included Tom Jones' "It's Not Unusual" and Patsy Cline's "Crazy."
Shelby Ingle stopped by the concert and enjoyed listening to the music by Radio King Orchestra. She was especially pleased by the variety of ages in attendance. "I love the music," Ingle said. "It's great to see young people and older people together, dancing and playing music." She would like to return for more concerts in the series.
The Take a Break Concert Series occurs every Thursday evening during the summer, extending from June 15 to Sept. 14. Each concert begins at 7 and ends at 9 p.m. Located at Lake Anne Plaza, attendees are able to listen from the docks, outdoor restaurant seating, or set up lawn chairs in front of the band. On dance nights, the area directly in front of the band is designated for dancers.
Future genres include Folk Music, Brazilian Jazz, Celtic, and Rockabilly. For a full list of upcoming concerts, visit Reston Community Center's Concert Schedule at www.restoncommunitycenter.com/take-a-break.