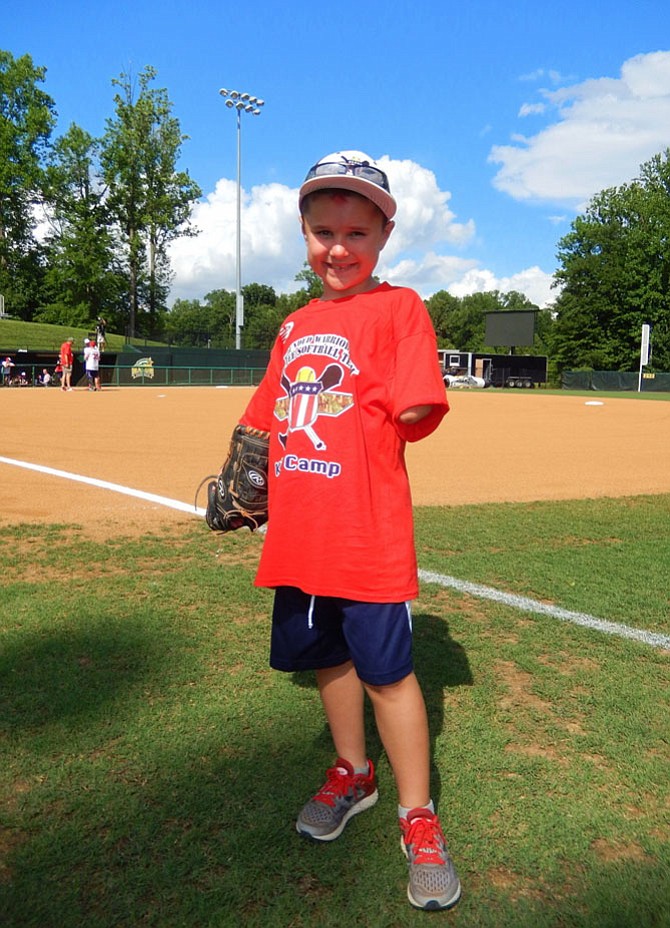 Some of the children swung the bat with one hand; others hopped to first base after getting a hit. But in the end, it didn't really matter how they played softball – or even who won the game – just that they did it.
These boys and girls were participating June 17 in the Wounded Warrior Amputee Softball Game at GMU's softball complex. And unlike in traditional competitions, the people in the stands cheered for every player on both teams.
One of those exuberant fans was Michelle Robertshaw, whose son Hunter, 13, was playing with a running blade on his right leg. He, like the other children on the field, had come from all over the country to take part in the Wounded Warrior Amputee Softball Team (WWAST) Kids Camp, June 12-16, that culminated in the softball game.
"This is beyond words, this is fabulous," said Robertshaw. "It's helped Hunter gain confidence; and it's been great having someone with the patience to work with him so he can adapt and play with his friends."
Actually, it was game one of a doubleheader that day; playing in the second game would be the adult WWAST. It's comprised active-duty and veteran soldiers with missing limbs, and the members vie against able-bodied teams to inspire and educate others about how much they're still capable of doing. Not only have these wounded warriors served their country but, during the Kids Camp, they gladly give their time to work with and pass on their knowledge to children with missing limbs or amputations.
"As a team, we all look forward to Kids Camp," said Bucky Weaver, 1976 Fairfax High grad and the WWAST coach. "To be able to witness the bond between the children and the wounded warriors is such an inspiration. This is truly a life-changing experience for these kids, as America's heroes continue to serve their country in a special way."
The adult WWAST members travel throughout the U.S. playing softball and raising awareness of and money for wounded-veteran causes. This was the fourth year of the Kids Camp and its second time at GMU.
"We bring in 20 kids [plus one parent each] from around the country for a week," said local attorney and Kids Camp committee member Brian Drummond. "And the adult, wounded warrior players serve as mentors and coaches for the kids, ages 8-12. But it's not just about softball; during the week, we took the kids on a bus tour of [Washington,] D.C., saw all the monuments and spent an evening at the Udvar-Hazy Center [National Air and Space Museum Annex]."
Yet the experience is about even more than that – it's about the intangibles that mean so much to the families. "It's hard to put into words how inspiring this week is for the kids, parents and players," said Drummond. "It builds camaraderie among everyone involved, and parents can share information about prosthetics and what their kids go through at school. And many stay in touch long after they leave here."
ENJOYING THE GAME, he said what gives him the most satisfaction is "watching how the kids grow in confidence and skill in just these few, short days." He's also touched by the strong bonds everyone forms. Said Drummond, "There'll be a lot of tears shed tonight at the final party before everyone goes home."
Before taking the field, some of the young players spoke with the Connection. Jack Finney, 8-1/2, of Neoga, Ill., has played baseball for four years and is equally at home pitching or playing second base or left field. He gets his love of baseball from his dad, a lifelong Chicago Cubs fan, and he planned to pitch in the Kids Camp game.
"I'm the best player on the team because I hit balls into the outfield the most often," he said proudly. And that's pretty special, considering Jack was born missing his left forearm. He's attended the Kids Camp before and said an adult WWAST player taught him how to tie his shoes and play softball.
Jack likes the camp because "Each year, you get to meet new people, and it's fun playing with kids without hands or legs. We're all different – that's how God made us. It's like, if we all rooted for the same baseball team, that would be boring because we wouldn't know about the other teams." Jack plays basketball, too, and hopes to someday be a professional athlete.
Also playing in the youth game in that day's 90-degree heat was Brooklyn Olin, 11, of Grant, Mich. Enjoying her visit to the nation's capital, she said, "I liked seeing the Washington Monument, the White House and the Capitol – and it was cool seeing the space shuttle." As for Virginia, she said, "It's really hot."
At home, Brooklyn usually plays second base or shortstop; but in this game, she was slated to man first base. She, too, called herself a good hitter. "I like baseball because it shows a lot of teamwork and I get to hang out with cool people and make a lot of friends," said Brooklyn.
She was born without a left arm from the bicep down, and her left leg was twisted at a 90-degree angle and had no knee or ankle joints. "It got in the way of everything and would have fallen off if it wasn't amputated when I was 10 months old," she explained. "Then when I was 11 months old, I got a leg made out of two pieces of wood with elastic and hinges. But I couldn't move very well."
Things changed, though, when Brooklyn was 9 and got a running blade below her left knee. "I can actually run," she said. "Before I had it, I couldn't run or hop. That's why I wanted a running blade – so I could run to first base. Before I got it, I could only run halfway and would then get tagged out."
For Brooklyn, it meant freedom to move around easily. "As soon as I put on the test, running-blade socket for the first time, I took off running down the street," she said. "It felt great – amazing."
For the softball game at GMU, half the WWAST team played the other half. "We're the Red Dragons and the other team is the Blue Strikers," said Brooklyn. "I like it that all the kids here are amputees and we get to play softball together. We're all alike in many, different ways."
Cheering from the stands, her dad, Tim Olin, said, "I think it's great; she couldn't be with a better group of people. And going to camps like this, we can pass on information to other parents about issues we've faced and resources available for them and their kids regarding things like prosthetics and counseling."
As for Brooklyn, he said, "I'm proud of her, every day, anyway, for all she's accomplished. But for her to keep progressing and learning from these veterans here – who've been through so much – and for them to take the time out to work with her, is just amazing."
DESCRIBING HIS DAUGHTER as smart and outgoing – "just a great kid" – Olin said she gets straight "A"s in school, especially in science and reading. "Deciding to amputate her leg was the worst thing her mom and I ever had to do, but it was best for Brooklyn," he said. "Her blade came from Nashville, Tenn., and she'll get a new one – or adjustments will be made to that one – as needed. Seeing her move around like she does, I couldn't be happier for her."
Robertshaw, of Downingtown, Pa., feels similarly about her son, Hunter, born without a tibia bone in his right leg and two fingers of his right hand fused together. "He got his first prosthetic at a year old, walked at 18 months and then was able to do and learn things on his own," she said. "As he grew, he ran with his friends and could climb on the playground equipment."
Hunter also played soccer and karate and is currently the goalie for a sled hockey team in Arlington. He uses a regular, prosthetic leg for daily activities, including hockey, and a running blade for softball. He even does adaptive skiing in Maine.
"We've never been a family that said he couldn't do something – we've always figured out a way," said Robertshaw. "Hunter's in regular gym at school and does everything every other kid does. We know it's a hard battle, but we're very proud of him. His leg doesn't slow him down; and every day, we're amazed at his willingness to keep going."
She called the WWAST program "the support we started looking for, the year Hunter was born. And each year, we find different people to connect with, including the parents on this team," she said. "Wherever they live, we can discuss different issues and they understand. And we now have the support of the wounded warriors, who've been such good mentors." So regardless which team won the game, she said, "We're just happy the kids are out there."
To contribute to the nonprofit Wounded Warrior Amputee Softball Team, go to www.wwast.org.