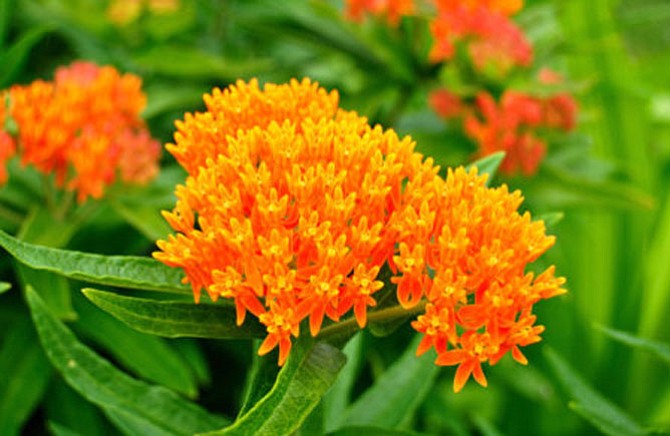 The designation Perennial Plant of the Year is awarded each year by the Perennial Plant Association to the perennial that outshines its competitors not only in appearance, but also in its noteworthy characteristics. To be considered, a plant must be able to grow in a wide range of climates, require little maintenance and have multiple seasons of interest. And, it should be relatively pest and disease free.
That's a tall order for many plants, but late last year, orange-flowering butterfly weed (Asclepias tuberosa) more than rose to the occasion. In November it was voted 2017 Perennial Plant of the Year, becoming the 27th in a distinguished line of perennials to receive such an honor.
What makes butterfly weed so special?
Native to much of the continental United States as well as Ontario and Quebec, butterfly weed grows wild in a variety of climatic conditions including dry forests, along roadsides and in prairies and open fields. A member of the milkweed family, it tops out at about 1 to 2 feet. Its natural preference for average to dry soil makes it an excellent drought-resistant plant.
Butterfly weed's large clusters of flowers are a brilliant orange-yellow, a beacon among other subtler-toned plants. Happily blooming from June through August, they produce copious amounts of nectar that attracts hordes of butterflies, birds and a wide assortment of insects. The distinctive flowers are composed of five petals that stand up (called hoods) and five petals that hang down. The hoods enclose a single orange horn that when cross-pollinated, forms a follicle. Later in the season, the follicle opens up along one side to disperse silky-tailed seeds.
Not to be outdone, butterfly weed's foliage has its own attractions. Long and pointed, the 4" leaves provide food for the larvae of native Monarch butterflies, while also lending a deep green backdrop to the brilliant flowers.
Plant butterfly weed in full sun in well-drained, moderately dry soil. For an eye-catching composition, pair it with other strong-hued perennials like Liatris spicata, Echinacea 'Double Scoop Raspberry' and Hemerocallis 'Stella D'Oro.' Or, let its orange flowers shine amidst subtler toned flowers like lemon-yellow Hemerocallis 'Happy Returns', white Phlox 'David' and apricot Cosmos.