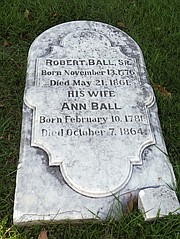 The road has been a long one for the Central United Methodist Church (CUMC) efforts to transform their property in Ballston into a new worship space. The Rev. Sarah Harrison-McQueen says for 100 years they have been the little church on the corner and an integral part of the Ballston community. "But," she added, "The community we serve is growing and changing so it's important that we grow and change as well in order to serve the people who live, work and worship here."
CUMC moved into the next phase on Feb. 28 when the Arlington County Board unanimously approved their redevelopment plan. This came after five years of discussing how to re-envision the church property to better serve the community. This included a year-long effort to satisfy local preservationists and historians about appropriate treatment of the historic Ball cemetery located on church property.
The question revolved around whether the historic Ball Cemetery should be declared an Arlington Historical District which would necessitate modification of church plans or whether any potential Bell family remains along with markers should be moved to a separate location.
A series of public hearings have been held since October 2016 along with specialized archaeological investigations to determine whether graves still existed on church property. Although that question was never fully resolved, the plan moved forward when the architects were able to redesign the underground parking for the building to incorporate the Ball cemetery space. To honor Robert Ball, Sr., the founder of Ballston, the plan designates the 502-square-foot space that contains headstones for several Ball family members as a local historic district. Plans for the space include a fenced area around the headstones under the backdrop of the "Christ in Blessing" Tiffany stained glass window from the former Abbey Mausoleum.
The new CUMC building will include the sanctuary, offices, classrooms, music suite, commercial kitchen and a fellowship hall. The new kitchen will allow for the expansion of the current meal program serving about 100 less fortunate residents every Friday. The goal is to add more days during the week with professional support from A-SPAN, AFAC and the county. Kathy Sibert, president and CEO of Arlington Street People's Assistance Network (A-SPAN) said, "The church hosts a drop-in meal program from 5 a.m.-noon, and A-SPAN has outreach workers and case managers there, and the nurse practitioner drops in to assist people. It is a time for visiting; people are treated with respect and many of the homeless have joined the church. It's a really nice partnership."
An expanded daycare space will double Kinhaven School's capacity from 68 slots to 120, will extend the daycare hours to full day and add an infant classroom to help relieve the severe shortage of daycare in Arlington. It will include underground dedicated parking spaces for use by the church and to be shared by Kinhaven.
In addition, the plan includes a residential structure above the worship space to include 119 rental units, of which 71 will be market rate and 48 will be affordable rental units. These units will serve persons earning 40-60 percent of the area median income. Six of these affordable units will be three bedrooms to better serve families. The project is scheduled to begin in the fall of 2017 with an estimated completion date of December 2019. The timing will depend on the approval of its affordable housing tax credit application to be decided in the spring. Harrison-McQueen said, "It has been a long tortuous road to get from where we were to where we're going. But I'm excited."