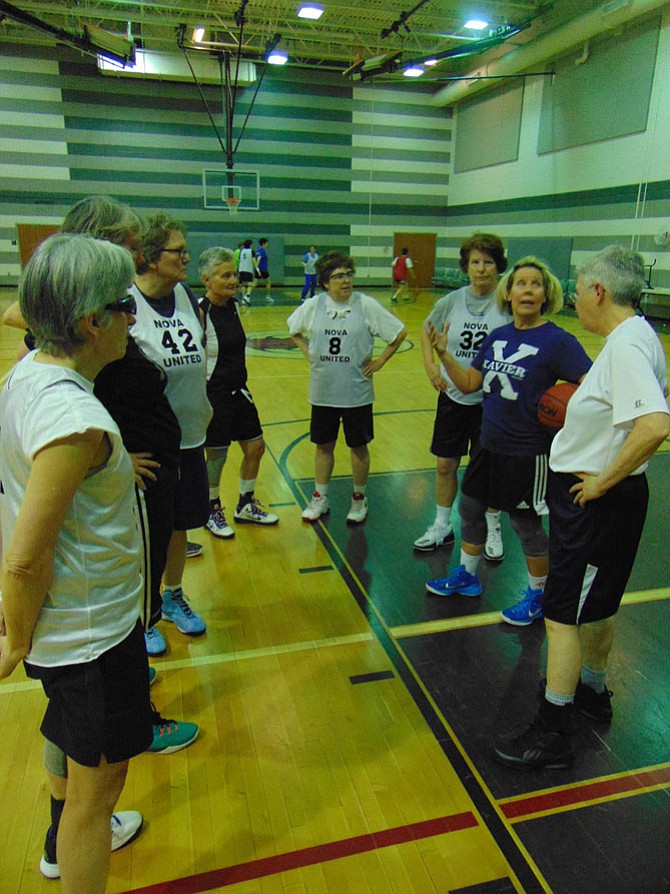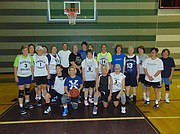 If you're over 50 and a woman, you're never too old to play basketball.
The NOVA Fifty and Over Basketball League caters to women ages 50 to 80 who meet every Friday year-round at the James Lee Center in Falls Church to play half-court games of basketball. With varying degrees of athleticism, they play rough and tumble games, enjoy friendships, participate in Mystics halftime exhibitions, and travel across the U.S. to tournaments. As members of the NOVA United Senior Women's Basketball Association, they pay a $25 fee and take care of their own uniforms and travel expenses.
Helen White, age 63, of Arlington, founded the group in 2003 when she turned 50. When she started, they had only five people. Today, there are more than 50 women in the association and another 50 who play recreationally — on teams called Rapid Fire, Solid Gold, Triple Threat, and The Classics.
Carolyn Gilchrist, age 60, of Centreville, who works as a personal trainer, and played at Indiana University, said: "We play some people who are professionals, we play against teams that have their whole college team together. It's very competitive. It's a lot of hard competition, a lot of athletes who have played the sport before."
IN 2009, the team went to Nationals in Stanford, Calif., where they played 10 half-court games in four days, and came in third out of 24 teams in the nation. This coming june, they'll be going to the Nationals in Birmingham, Ala.
What White enjoys the most is the chance to play sports with people her own age, calling the camaraderie priceless. "Not only do we have friends here, but because we play in tournaments around the country, we have friends around the country when we play in their towns and cities, and compete against them," she said.
Kathie Chmura of Alexandria, who is now president of the group and a P.E. teacher at James K. Polk Elementary, said when they started, they had all different age groups that just wanted to play basketball. It took a while to develop but since then, they've split into teams of 50-year-olds; two 55s age groups; one 60s; one 65s; one 70s; and one 75-plus age group.
They attend tournaments all over the U.S. — in North Carolina, Delaware, Arkansas, and Maine — competing against players who are 10-15 years younger. They also compete in the Senior Olympics every two years, and play during college halftime games for exhibition. "The friendships you form here are priceless," she said.
Paula Cotman, age 60, of Fairfax, is a school counselor at Liberty Middle School in Clifton; she played basketball at Virginia State University and has been playing ever since high school. "We all have a purpose and a desire in life, the women of the NOVA Fifty and Over Basketball League engage in healthy activities and continuously use their resources to empower others," she said.
Even though she hasn't played for two years due to an injury, she enjoys the "mental gymnastics" and overall feeling of refreshment from playing with a group she calls "family." "Basketball is my life; you make good friends; you learn how to make good decisions; there are life skills that are taught," she said.
EVERY YEAR, the team sponsors a family for the holidays by doing a giving tree, contributing gift cards, and money. Last year, they donated clothes, toys and piggy banks full of cash, and gift cards to one family with spousal abuse.
Through her counseling, Cotman heard about another needy family with a suicide and four children, ages 3-18. The ladies created a wish list for the kids and granted everything on the list.
"We have a variety of professionals here; a lot of the women are retired and they're basically giving back to the community all of the time," she said. They've helped the Duffy House, the American Red Cross fundraiser and the International Police and Firefighter's basketball tournament, among others.
Jackie Stephens, 79, of Fairfax Station, didn't start playing basketball until she was in her 60s, but says it has been a dream fulfilled. "It's a stress reliever; it's exercise; it's socialization and I'm with friends doing what I love to do, and that's play basketball," she said.
"When anyone has a project that they're working on, we are right there for them. We help others in any way we possibly can. We go and make donations, and scholarships are given for college," she said.
Gwen Forkin, 62, of Centreville, works as an IT manager. She played in high school and recreational leagues since age 21. She enjoys meeting lots of different people with varying skills. "When I found this, it was like a rebirth," she said. "We don't mind getting older, because we can age-up and play with the next age group and then you're the youngest in that age group."
Barbara Klementz, 80, of Wakefield Chapel, has been playing for 13 years. "I love the sport and I love the family that we have as a team; these people have supported me when I really needed them, and they're a lot of fun most of the time."
Elise "Sweet Pea" Patak, 81, of West Springfield, enjoys the friends, the camaraderie and the exercise. "It's just a feeling of togetherness. We do a lot of socializing outside of here. We go out once a week to Anthony's Restaurant," she said.
Jeanni O. Winston, 81, of Chevy Chase, Md., used to work in the White House for Kennedy and Johnson. She was nervous playing at first but that changed when she got to carry the Senior Olympics torch in Pittsburgh. "It was the biggest thrill; I was on the front page of the Pittsburgh paper," she said. "It was such an exciting time."
Sue Shepard, 60, of Centreville, who works as a math teacher at Robinson Secondary School and played college basketball, said: "My team is my second family. We support each other. We're at the age that we have grown kids and are taking care of parents, so we can support each other through that. We're always there for each other; it's nice."
Betty Graf, 59, of Clifton, who works as a principal assistant engineer, said the league is more family than teammates. "We have a great group of people; we do things outside of basketball and it's good exercise." She added: "We've played for the Mystics during halftime and the fans cheer us and it's really nice."