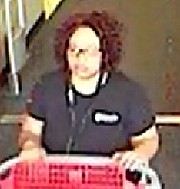 Fairfax County Police say an unidentified woman pretending to be a Target employee entered the store's stockroom at 6600 Richmond Highway on March 15 and then boxed up and left with more than $40,000 worth of iPhones.
With an unlocked iPhone 7 Plus 32GB, running around $900 at Target, the suspect only needed to box up several dozen smartphones to reach that total.
"The suspect is not affiliated with the store," a statement from police said, "but appeared to have knowledge of the store's procedures, employee hours and the location of the iPhones in the stockroom."
Detectives have also released surveillance video of the suspect during the theft. She can be seen getting into a Volvo station wagon after leaving the store.
The link to the video is https://www.youtube.com/watch?v=VgWtNdCzsHs&feature=youtu.be.
Police are asking anyone who may have information or knowledge of the crime to contact Detective A. Goodger of the Mount Vernon District Station Criminal Investigation Section at 703-619-4305 or Crime Solvers electronically by visiting www.fairfaxcrimesolvers.org or text-a-tip by texting "TIP187" plus a message to CRIMES(274637) or by calling 1-866-411-TIPS(8477), or call Fairfax County Police at 703-691-2131.