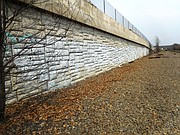 Graffiti isn't art, it's a crime. That's the message the Mason Neck Lions Club is trying to remind people of as they've coordinated several graffiti removal projects in the Lorton and Mason Neck area over the past couple of years.
The group's latest was March 25, when seven members and volunteers completed a graffiti removal project at the Lorton park and ride commuter lot on Gunston Cove Road.
For the project, they used paint rollers on extension polls to apply an acrylic emulsion paint to the concrete facility walls that face the railroad right-of-way. The volunteers also collected 10 bags of litter waste and other debris from the area.
Before that, the Lions organized a similar project at the Furnace Road railroad underpass in Mason Neck.
Joe Chudzik with the Lions said that in the past, they would report graffiti to Fairfax County Police, and at one point received some donated paint from the Sheriff's Office.
"Now, we just buy the latex water emulsion paint at Home Depot and organize the volunteers for each graffiti removal project," Chudzik said in an email. "The Mason Neck Lions Club supplies the painting equipment, gloves, bottled water and certificates of appreciation to the volunteers."
The next Mason Neck Lions project is a stream cleanup at Pohick Square on April 22. Volunteers are asked to meet at Timerand Court, Pohick Square HOA, for the cleanup lasting from 9 a.m. until noon. For more information, call 571-642-6000.