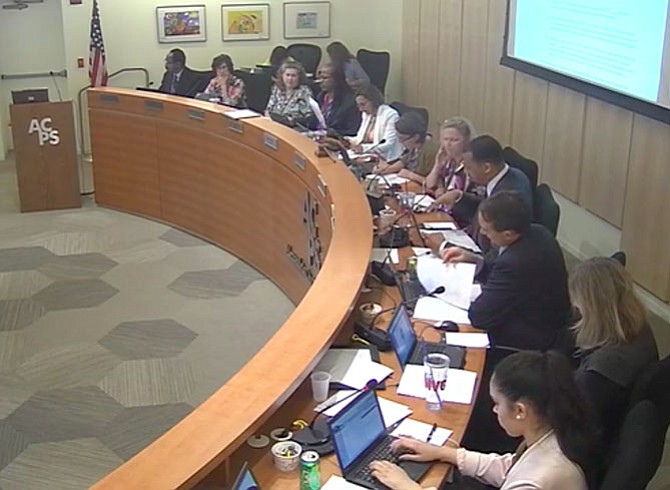 The City Council will vote tonight whether or not to establish a task force charged with creating a joint city-schools approach to infrastructure. While some see the initiative as the prudent seeking of expert counsel, others think it circumvents the established role of government.
A yes vote would put into action a March 14 proposal from Vice Mayor Justin Wilson. In it he cited the public's "desire to break out of the cycle of underinvestment and deferral" and "expectation that we will conclude this budget process with a sustainable capital investment level for the foreseeable future." Toward that end, the new Ad Hoc Joint City-Schools Facility Investment Task Force would recommend "a Joint City-Schools Capital Improvement Plan (CIP)," according to the docketed resolution. A joint CIP means "prioritization of City and School facilities utilizing identified available funding" spaced out over 10 or more years, beginning FY2019. The Task Force would also make process and policy recommendations regarding, for instance, joint facility/site usage, governance, and ongoing maintenance.
The major concern is that the Task Force would comprise "disinterested persons … who do not hold public office or are employed … by either the City or ACPS [Alexandria City Public Schools]." Rather than City or ACPS personnel, the nine Task Force members would include outside "blue ribbon" experts. Their expertise would include architecture, engineering, urban planning; education; facilities planning; asset management; construction; finance; business; real estate development; and related law. The estimated cost to support the Task Force — including a paid consultant and additional staffing — is $414,000.
Several School Board members expressed concerns about this proposed model at their April 27 School Board meeting. Echoing Mayor Allison Silberberg — City Council's only dissenting voice — they think the existing budget process and bureaucratic mechanisms should suffice. Existing mechanisms include the City Council-School Board Subcommittee; the Long Range Educational Facilities Plan (LREFP) Work Group; the City's Budget & Fiscal Affairs Advisory Committee (BFAAC); and ACPS's counterpart to BFACC, the Budget Advisory Committee (BAC).
"My biggest concern is that [the Task Force proposal] seems to take the role of the superintendent and the staff, and the charge of the elected bodies, and pulls away that responsibility from what they were elected to do," said School Board member Christopher Lewis. "I think we have a system that could work, if we agree to work through it, where we propose a budget, we have work sessions with [City Council], we talk about priorities, and we task our staff[s] to bring forward concepts that support the shared goals and the shared priorities … That's the way our budget process is supposed to work. If we need to tweak and give greater instruction, I think we can do that."
"I feel pretty strongly that there should be electeds [City Council and School Board members] on it, like there have been with these other committees," said School Board member Karen Graf. "I really envisioned it being something like a subcommittee of the [LREFP]."
"We have highly professional, intelligent, well-versed members of our staff that do this every day. This is their responsibility, to put this together with the superintendent," said School Board member Ronnie Campbell. "I think what we need to really discuss is: we need to find time with the council and they need to find time with us. If we need more work sessions, we need more work sessions. … We can't just put the responsibility on other people."
But the majority of city officials do not share this concern. They think outside experts would be better suited than existing structures and processes for the capital planning challenge at hand.
At an April 19 work session, Silberberg's suggestion that BFAAC might take on the Task Force's intended role met with disagreement. Criticisms included that BFAAC has not adequately addressed ACPS in the past, despite council asking them to; their mandate is different; and they don't comprise the right mix of experts.
Furthermore, many worry about the inevitable political biases of utilizing groups — such as BFAAC — that include city or ACPS staff or appointees from the elected bodies. "This should not be politics whatsoever. That's where our CIP has been for the last however many years, and that's what we're trying to get away from," said Councilman John Chapman at the April 19 work session. "The Task Force is intended … to be 'disinterested' and neutral, which city staff and ACPS staff may not be in regard to the projects for which each of those staffs are responsible," according to an April 19 budget memo.
Council member Paul Smedberg said at a May 1 work session: "I think it's really important … [that] we end the politics and the games that have surrounded this … I think it's very important that there are no electeds, no former electeds, no one tied to commissions or anything, but a real independent group of folks who can bring a critical eye to this."
In any case, while the Task Force is intended to be independent, it isn't envisioned as being isolated. "[T]his isn't something like where these people go off into a dark room and come back four months later with a report," said Councilman Tim Lovain at the April 19 work session. He sees it rather as "an interactive process." Likewise, an April 27 memo from BFAAC commenting on the proposed Task Force said: "While the City Manager and Superintendent will not be members of the Task Force, their support and leadership will be needed to ensure the Task Force remains on track and delivers actionable recommendations to help shape the City's and Schools' approach to CIP going forward."
School Board Chair Ramee Gentry has offered a conciliating voice. At the April 27 School Board meeting, she said the Task Force's temporary nature means the onus will ultimately fall on "staff for really fleshing out memorandums of understanding. And it really does go … back to electeds to take the information from this and then do some of those kinds of things." At the same time, she said in a May 1 email, "[W]e see value in allowing further review before finalizing the Task Force … [We have] the remainder of May for review and any mutually agreed upon adjustments without any significant shift in [the] overall timeline."
The council will vote on the Task Force at tonight's special meeting, following the FY2018 budget adoption. The meeting starts at 7 p.m. in the Council Chambers, on the second floor of City Hall. Consideration of the Task Force is docket item #14.