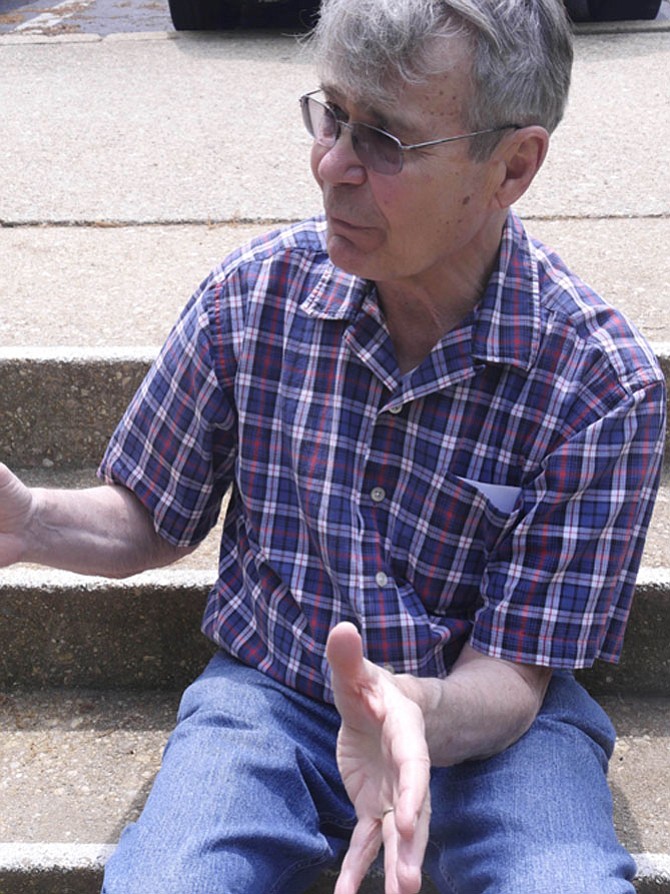 Pierre Shostal answers his cell phone. "What time is the appointment, Leila? I will pick you up at 2:35. Which hospital are you going to?" He shakes his head and says to himself, "She's not doing well."
Shostal is part of a two-member Care Team focusing on refugees at Historic Christ Church. He says the refugee families come to the church's Lazarus Financial Ministry and get referred to willing volunteers on Care Teams. They assist the families with everything from rides to the doctor to furnishings to moral support.
Leila and her husband Ahmed came to America from Afghanistan just before their now 5-month-old son was born. These are not the real names of the family. They had both worked for the U.S., Leila as a USAID office manager and Ahmed for both the UN and USAID. Now Ahmed has a part-time job on the night shift at one of the Southern Towers buildings where they live.
But Shostal says it isn't enough to pay for the $1,085 rent on their efficiency apartment so the family came to the church for temporary assistance. Leila is currently unable to work because of daycare for their small child and her own recent health issues that have put her in and out of the hospital. Leila blames some of her current health problems on the tradition in their country of inviting guests for a meal even if you do without. As a child she remembers being too weak in school to concentrate because she hadn't eaten or had eaten a lot of the wrong things.
Shostal says the family has mostly needed assistance with rent but also with household furnishings for the kitchen as well as furniture. "Goodwin House, where I live, gave them some," he said. In addition, the church just purchased a special bed this week from Walmart with a hard foam mattress and cool gel on top to reduce the body heat from Leila's arthritis.
"And rides they definitely need; they call on the spur of the moment." Shostal says one of the cultural differences between America and Afghanistan is their sense of time. "If you have been with them for a while, they will invite you back to have tea, even if you are very busy. You have to do that a certain number of times so you don't offend them."
Assistance comes in many forms. "Her computer had gone out. It was really a disaster. We got it partly fixed by another refugee. The hard drive had died," he said. And of course they need diapers. They also provided a bouncy chair for the baby and books that Leila reads to the child in English every night.
Shostal assists another Care Team family of husband, wife and three children. "This has been a success story." Shostal explains Mohammad had worked with the U.S. combat troops in Afghanistan. "Some of the language he used couldn't be used in polite company." Shostal says he had to explain that the troops didn't necessarily talk the same way as most Americans. Mohammad started out as a security guard, a common job for many refugees. Shostal says Mohammed was able "to buy a bad old gas guzzler." He worked himself up and was able to buy a rehabilitated car for $800 and eventually rent a hybrid to use as a Lyft driver. "Now he has bought an SUV and he is able to pay his own rent." Shostal says this is "what keeps us going. We don't want eternal dependency."
Shostal says he does this because he "has a natural sympathy and empathy because he came here in 1941 from France when he was 4 years old. "My father was Jewish and we were helped by the Quakers and fortunate to get visas. This is my way of paying back."
Shostal says besides the assistance with daily needs that moral support is very important to the refugees. "It gives them a chance to talk. Loneliness and the risk of depression are common. I see people who feel they have fallen from their status in society to the bottom of the world. I tell them both of my parents were PhDs but my father worked as a gas station attendant and then in a button factory. But," he said, "My father was finally able to establish a photography business like he had back in France." He tells them, "Don't get discouraged; America is a country where you can succeed."
This is the second in a series focusing on refugees in the community.