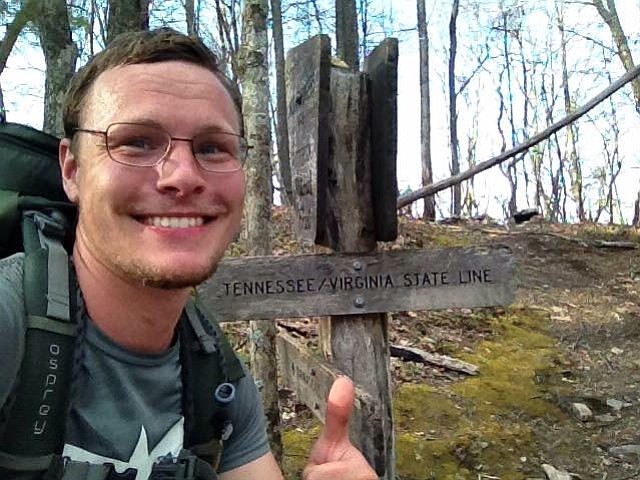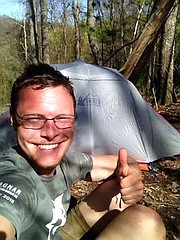 The Appalachian Mountain Scenic Trail (AT), the longest path in the world exclusively for hikers, stretches 2,190 miles across 14 states in the eastern part of the United States – from Georgia up to Maine. Great Falls resident Spencer Brothers is currently hiking the thousands of miles of this historic trail in honor of his fallen best friend, who lost a long, fatal battle with drugs four years ago. As a recovering addict himself, Brothers is in the midst of a challenge that years ago, he never would have imagined himself taking on.
"I started hiking the trail on March 11, so, I'm about a month and a half into it," Brothers said. "It's been going great so far. I knew before I started that it would be hard, but it's even more physically challenging than I ever thought it would be. Nonetheless, I'm really enjoying it."
It should take Brothers about five and a half months to hike the entire trail. His first time hiking the AT, he planned his maiden voyage in memory of his late friend, Chris Atwood, who died in 2013. As Brothers ploughs ahead, he's also raising money for The Chris Atwood Foundation, a local organization founded by the Atwood family to provide resources for substance disorders and to combat the stigma surrounding such dependency.
"The biggest source of inspiration for me to take this on is to honor my friend Chris Atwood who died of a heroin overdose four years ago, in February 2014," Brothers said. "I've done some marathons and other races to honor him and to raise money for the charity that his family founded. This is bigger than that. It took a lot more preparation, and a lot more time obviously, being that I'll be hiking for more than five months. It's to honor Chris and to raise $21,000 or more for this awesome, important foundation that his family created. I set the goal of $21,000 because Chris lived until the age of 21, so I'm hoping to raise a thousand dollars for every year he was alive."
Ginny Atwood Lovitt, Executive Director of The Chris Atwood Foundation, said that people like Brothers are the backbone of this organization that her family started.
"Spencer's bravery and compassion for this cause are unbelievable," Lovitt said. "Most of the time it just leaves me speechless. The Chris Atwood Foundation is entirely funded by private donors so it's only through the efforts of people like Spencer and our compassionate donors that we are able to do this work. What he is doing is not just helping people that otherwise might die, but it's in a way keeping my brother's memory alive and honoring the lives of all those we have lost to overdose."
The dollars that Brothers accumulates for The Christ Atwood Foundation are nowhere near the most important outcome of the mission, either.
"Spencer is not just raising much needed funds to help people with addiction, he's showing them just how incredible life can be after addiction," Atwood said. "He's showing them that day by day and step by step recovery can help you achieve things you never thought you were capable of. It's our hope that Spencer's journey will defeat some of the stigma that people have about addiction and recovery. We want his journey to bring this issue out into the open and show people in our community and beyond that people can be really proud and open about their recovery if they want to and that they can use that to accomplish great things."
Despite Brothers taking the first step of his Appalachian Trail hike less than 10 days before the official start of spring, he has encountered snowstorms and several instances of hypothermia-inducing temperatures. Through both the expected and unforeseen hardships, Brothers said that he is confident that his resolve to conquer the trail will continue to overpower any notions of quitting – as long as he keeps his focus on the bigger picture.
"Early on, I was just carrying too much for the sheer number of miles that I was doing day in and day out," Brothers said. "The pack that I carry everywhere started out really heavy. I was wondering if I was cut out for this, if I could actually do this. I was seriously considering giving up, but, I had been planning this for too long and I was doing this for The Chris Atwood Foundation and for people other than myself. In the beginning, leaving the comforts of home was hard to adjust to but then it became the new normal. There's just no way that I'm going to give up unless I become physically unable to – and that would take something completely out of my control."
IN ORDER TO STOP BROTHERS, the world would have to present him with something truly catastrophic. He's already found a way to put one foot in front of the other through physical conditions that many would consider insufferable, including early stages of hypothermia and an injury that has been known to prevent even professional athletes from accomplishing their goals.
"I started out doing some pretty decent mileage," he said. "Then, within a couple of weeks, I injured myself trying to do more than I was ready for. I strained my IT band, but I took a day of rest and I called my sister who is a physician to get her advice, and I ordered a support wrap. I decreased my mileage for a while to let the band heal. Since I've gotten the wrap and I've given my leg some time to heal, I now average about 20 miles a day consistently. The longest mile I've done is 26 miles, which was just a few days ago."
Since Brothers struggled with drug dependency early on in his life, he is no stranger to overcoming challenges. In this sense, perhaps this part of his background gives him an edge on the AT.
While many people may find it difficult to be alone, with just the sounds of nature and their thoughts to remind them that they are indeed still alive on Earth, Brothers said he appreciates this component of his extended solo hiking experience.
"I get a lot of time for thinking," he said. "But, thinking in a wilderness setting allows things to bubble to the surface that I wouldn't ordinarily think about. There is something really healing about being out in the woods for a long period of time. I'm really growing from this."
While he spends the majority of his time on the trail alone, he said he does regularly encounter other people.
"I haven't gone a single day without seeing people yet," he said. "During the day, since I'm hiking at my own pace, I'll be alone, but, at the same time, I run into and meet tons of people in spurts, at different points on the trail."
In fact, during Brothers' first weekend on the AT, fellow hikers literally helped lighten his load.
"I stayed at a hostel my first weekend on the trail and found people who helped me figure out which gear I could get rid of to lighten my back a little bit," he said. "My pack started out at 47 pounds, and now it weighs around 35 pounds – or less."
Although this is Brothers' first extended hiking endeavor, it is nowhere near his first exposure to survival in the great outdoors. His first steps toward recovery years ago were actually at a program that he went to as a teenager that first exposed him to trekking through the wilderness.
He said his background with addiction, treatment programs – and thus, the woods – is likely the reason the idea of the AT was so intriguing to him.
"I struggled with drug addiction myself as a teenager, along a myriad of other issues like low self-esteem and anger," Brothers said. "My family sent me to two different treatment programs that did outdoor adventure therapy. While my challenges didn't end with these wilderness programs, the programs help put me on the road to recovery. My experience with them – exposure to the woods, and hiking and camping for long periods of time – planted the seeds for the inspiration to do a really significant hike like the Appalachian Trail."
Still, Brothers said the hiking he did through wilderness programs really cannot even compare to what he's doing now.
"With the wilderness programs I did, we hiked and camped every day, but we averaged more like 6 or 7 miles a day," he said. "Now, overall, I'm averaging 15 to 20 miles every day. It's really difficult to stay motivated to keep up with that progress day in and day out, especially with the physical damage that comes with it."
Now that he's accustomed to the rigor, Brothers said the majority of his every day really is hiking. Other than willing himself to push onward through varying elevations and, oftentimes fickle weather, he spends the remainder of each day preparing basic meals, and then sleeping as much as possible to recharge for the following day. There are designated campsites, hostels and other shelters along the way specifically intended for AT hikers.
He added that he typically resupplies at grocery stores in towns surrounding the AT. He'll either get to the towns by getting off the trail and walking an extra mile or two, taking a shuttle, or he will hitchhike. Recently, he actually accepted a ride into a Southern Virginia town from a woman who happened to be a fellow Great Falls native.
LATER THIS MONTH, Brothers will reach a point close enough to home so that his parents can pick him up and usher him back to their house so that he can enjoy the comforts of home for a few days. Really, though, Brothers has planned this respite from the trail is so that he can submit graduate school applications. And, when he gets back on the trail, his girlfriend will join him for the remainder of the hike, which will make his hike even more meaningful, and even symbolic.
"I'm so excited to have her on this journey with me," he said. "It's actually been her dream to hike the AT since before I met her, so it's wonderfully serendipitous that our journeys and dreams literally walk alongside each other."
In the meantime, Brothers said he's learning a lot about himself, and about life, as he treks onward on his own.
"I definitely am learning patience on the trail," he said. "I'm also learning to trust myself. I see so many different hikers approaching the trail and pacing themselves in different ways. You have to learn to be confident in following through with a plan that is best for you. Also, if I didn't know it before, I certainly know now that nothing worth doing is easy. Looking back on this experience, when it's all done, I'm going to be glad that it was hard. It'll make future struggles seem more surmountable."
As of now, Brothers has raised about a third of his $21,000 goal for The Chris Atwood Foundation. A few people have pledged a dollar for every mile he completes, including Chris Atwood's father.
Brothers is hoping for more donations – both big and small – as he puts himself closer to his finish line at Maine's Mount Katahdin. Even though he has limited access to the World Wide Web and all of its convenient means for the mass communication of information on his mission, he's still spreading the word.
"At every shelter, there is a log book for AT hikers to sign and to look at the words of hikers that reached that point before them. I've been writing the fundraising information in there. Hopefully it will resonate with people, and they will pass it on."
TO DONATE to Spencer Brothers and The Chris Atwood Foundation, visit www.crowdrise.com/blazing-the-trail-to-recovery.
To read updates to his journey, visit his blog at www.spencersatblog.wordpress.com.