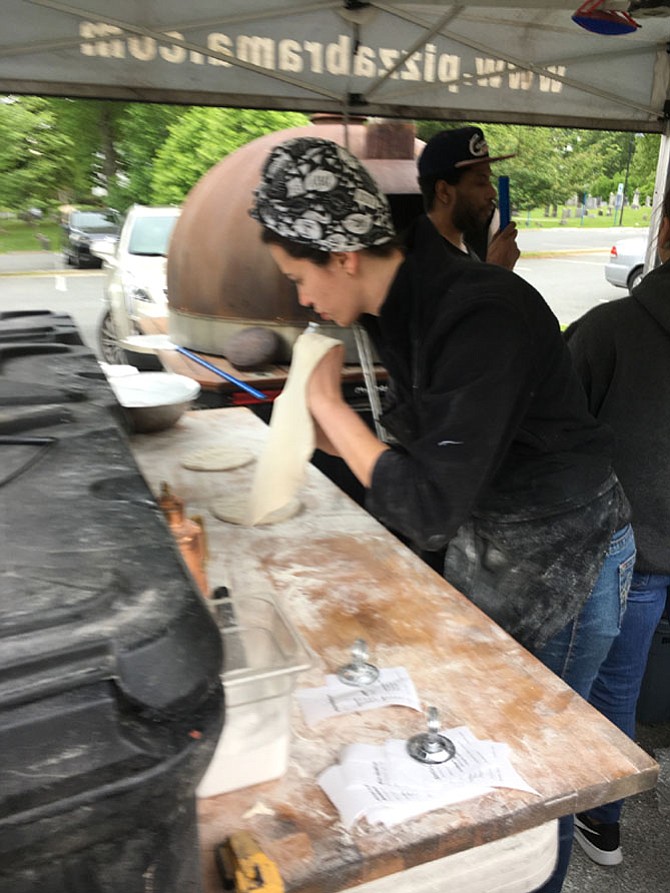 It was windy and chilly last Thursday, but the atmosphere was warm as Potomac residents greeted vendors on the opening day of the 2017 season of Potomac Village Farmers Market.
Many of the eight vendors at the market are long-time regulars and market-goers greeted them as old friends.
"We've watched Hannah and her brothers grow up," said Diane Bernstein, of Potomac, of Hannah McCleaf, who was behind the register at the McCleaf Orchard tent.
Bernstein and her son Joel, 13, were shopping and socializing, trying to remember how many years they have attended the farmers market.
Corey McCleaf, owner of the orchard, said he has been a vendor in Potomac for about seven years. He comes from Biglerville, Pa., just north of Gettysburg. There he grows 120 acres of fruit plus "a few" acres of vegetables.
"We focus more towards fruits," he said. "But it's early, we are not into fruit yet."
On Thursday he had apples and cider, fresh eggs, several potted herbs, asparagus and onions. "Next week we should have some strawberries too," he said.
Potomac Farmers Market is held every Thursday from 2-6:30 p. m. from May through November in the parking lot of Potomac United Methodist Church, at the corner of Falls Road and Democracy Blvd.
Visitors to the Farmers Market are greeted by the colorful display of flowers from Plant Masters, growers from nearby Laytonsville. Carol Carrier and her family grow two acres of plants, using a greenhouse and three hoop houses to have flowers to sell at eight markets, including Potomac, throughout the year.
Carrier has bouquets of cut flowers, plants, hanging baskets, herbs, tomato plants and a few other garden vegetable plants for sale.
Jeanette Lelchitski, of Gaithersburg, and her daughter Anna, almost 2 years old, were shopping for gifts for Anna's preschool teachers. They were also picking up a fresh baked pizza from Pizza Brahma, a mobile pizzeria featuring wood fired pizzas made to order.
Suzanne Hermes, of Potomac, is the Market Master. She was a vendor when the market was held at Potomac Presbyterian Church on River Road, selling home baked goods. She took over as owner operator 8-10 years ago when the market moved to its present location.
"It is so people have access to fresh locally grown foods and to support local businesses," Hermes said. "We do have very successful vendors mostly because of the participation of the community."
All of the vendors at the market on opening day are Potomac Village Farmers Market regulars except for Sandy and Bruce Savage of Dickerson. They are just starting their first full season there.
"Last year was our first year, we were filling in for a vendor who couldn't finish the season," Sandy Savage said. "This will be our first full year."
The Savage's run R.B. Savage and Sons Farm, selling "farm raised/freezer ready" meats: beef, pork and chicken. They also have fresh eggs, goat milk soaps and sell Cherry Glen goat cheese from a neighboring farm in Boyds.
Fresh vegetables are available from Hillside Meadow farm in Glenville, Pa.
"The people are why I come back," said Jason Gross of Hillside Meadows. "The people are very loyal to the market, pleasant and very nice to deal with. It's a good business market."
Also back this year is Keith Voight of All Things Olive, selling olive oils and vinegars and dispensing information on olive oils like a master sommelier and Salt River Lobster, a Montgomery County company specializing in fresh lobster, fish and shrimp.
Hermes said there are usually 10 to 12 vendors at the market but some were slow getting started this year. She also said volunteers from Potomac Community Village, a nonprofit organization devoted to helping residents age in place, usually have a booth to share information on their organization.
For more information on Potomac Village Farmers Market visit www.potomacvillagefarmersmarket.net.