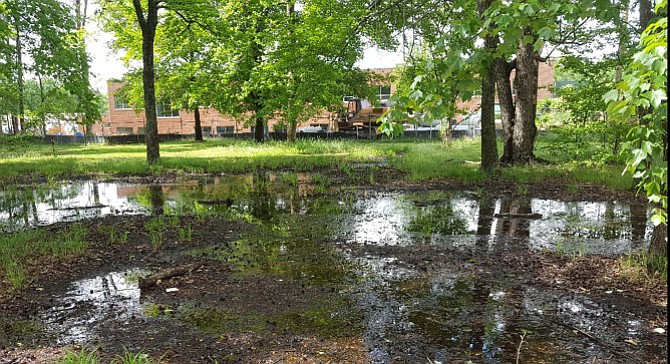 I'm writing to follow up on my recent letters concerning the area of standing water within Stratford Landing Park adjacent Stratford Landing Elementary School. I pointed out the danger posed by leaving in place, next to a school, a mosquito breeding area. The accompanying photos show the standing water and its proximity to the school.
I spoke to a neighbor this week, a lifelong resident of the community. He informed me that about 50 years ago, the area in question was excavated to create an ice skating rink for neighborhood residents. When the rink was no longer in use, the land was left in that condition and eventually trees naturally sprouted there and grew. The time is long overdue for the land to be restored to its previous grade elevation and the mountain of dirt on the school grounds should accordingly be put to good use for that purpose.
This is a safety issue directly affecting the health and well-being of students attending the adjacent school (as well as teachers and administrators). It must not be ignored.
H. Jay Spiegel
Mount Vernon