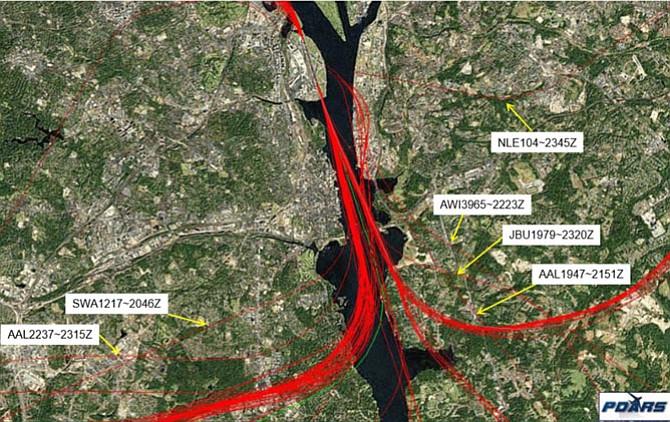 Mary Tracy, a retired foreign service officer from Hollin Hills, can't sit on her porch in the morning due to the piercing airplane noises flying over her community from Reagan Airport (DCA). The homes in her historic community have single pane glass, she said, so when the planes are as low as 1,800 feet, they rattle the walls (as high as 90 db) and leave her pictures hanging crooked. Sometimes there are as many as 20 planes an hour.
"It's pretty deafening here when they're flying over here. It's very disturbing and it goes on past 11 p.m. They start sometimes at 6 a.m. It's a very loud and disturbing," she said.
To make matters worse, she said the Federal Aviation Administration (FAA) has refused to listen to the people south of Reagan Airport and her local state legislators seem to be missing in action.
Since April 2015, the problem has only gotten worse for people living south of Reagan Airport in Alexandria and Mount Vernon. That's because the FAA's NextGen procedures changed airplane departure flight tracks in those neighborhoods. Before, the flights were more spread out, but now they are concentrated over a few neighborhoods. The hardest hit areas are Hollin Hills, Villamy, Mason Hill, Hollindale, Kirkside and Marlan Forest.
To deal with this problem, there's a new group of residents in the Fort Hunt area that have formed the South Flow Alliance (SFA), which aims to get the FAA to address chronic airplane noise over their neighborhoods. On Wednesday, May 10, a crowd of 100 people got briefed on this problem at the SFA Community Action Meeting at Walt Whitman Middle School.
"I live in Riverside Gardens and I hear planes at all times in the day or night and I've never heard it like it is today," said Mount Vernon District Supervisor Dan Storck of the 300-plus daily departures at Reagan Airport per month -- a number that exceeds that of Dulles Airport (IAD). He said the number changed radically two years ago when NextGen changed the flight paths in the Metroplex without giving any public input on the matter.

Storck added: "And that to me is unacceptable; it's wrong to impose something on a community that is a Democratic republic. Officials should be coming to us when they're making changes this dramatic. We have to try to address this situation at hand, which is totally broken and needs fixed. This cannot continue. We're going to work hard but we need your help to get there; it won't happen without your calling, your emails, by contacting the FAA with your frustrations. It will happen because the people in this community will not let this stand."
Mike Rioux, the Mount Vernon District representative to the Metropolitan Washington Airports Authority (MWAA) Reagan National Airport Community Working Group, was invited to give a PowerPoint presentation to the group on airplane traffic and noise.
Before April 2015, the navigation was radar based, he said, so the noise was spread over a wider path. When NextGen came in, the flight path narrowed. So now more flights are flying in concentrated tracks. Rioux said before there was "equal opportunity noise" spread out over a wider area. "Now we have a real concentrated set of flight tracks over a specific community," he said.
What NextGen is doing is consolidating the airplanes into a single on-ramp so what ends up happening is that 20 percent of the community is getting bombarded with noise and airplane congestion on designated flight paths, he said.
"When it was radar based, it was a wide path over the city and affected a lot of communities; they were sharing the pain. But when GPS came in, the flight path narrowed and became more concentrated," said Stephen Thayer, the City of Alexandria's representative to the Metropolitan Washington Airports Authorities Community Noise Working Group.

In Old Town, Thayer said the flight paths that now exist take aircraft over the west bank of the Potomac River. More concentrated flights are flying over Old Town, then down south to the Woodrow Wilson Bridge, and then westerly. He said the southerly departing aircraft are the noisiest and that the Working Group recommended changes to the FAA to move the flight path from the west bank of the Potomac to the middle of the river.
Another recommendation was for the waypoint to be extended another three miles south. "If they extend it, then planes will not anticipate making a turn and going over residential neighborhoods, which is what they're doing," said Thayer. "It will be at a higher altitude when they make the turn so it won't have the noise impact that it has now."
"This is not a simple problem," said Rioux, adding that when Congress passed the 2012 FAA Modernization and Reform Act mandating NextGen, they made no requirement or opportunity for public comment, so they are exempt from community outreach. "It's really archaic," he added.
Friederike Aherns, chairperson of the SFA, said the FAA did absolutely no community outreach when they implemented these flight patterns in April 2015. "We need to let the FAA know that this is not OK," she said.
Some people are complaining, but Aherns said that 80 percent of noise complaints are coming from just 20 individuals, which is not enough to make changes. So she encouraged the crowd to join the SFA to make their voices heard.
In the last five years, traffic at Dulles Airport has decreased while traffic at Reagan Airport is going up because its proximity to the District makes it more convenient for travelers, said Rioux. "DCA is a slot-controlled airport; you pay for a slot and can fly as many flights out of there as possible; there are no restrictions. The traffic is going to continue to grow here (at Reagan Airport)."
Rioux said 56 percent of airplane departure traffic goes north; 44 percent goes south. In 2004, he said the FAA did a Noise Contours Part 150 Study that drew noise contours, which tells the average level of noise around Reagan airport. About three years ago, it updated those noise contours because they made some modifications to the airport. "We've got to redo the noise footprints. We're still fighting that issue," he added.
In recent months, the FAA has been focused on the North Flow traffic above Reagan Airport, said Rioux. The South Flow traffic has not gotten any attention; and Rioux doesn't expect the FAA to address it until July or August. So now is the time for people to get active.
For those who want to track airplanes and noise flying above their properties and report them, Rioux suggests doing a Google Search of "DCA Webtrak," the flight track and noise public portal for Reagan Airport. By clicking on the airplane icon, it will give you info on the flight activity, noise data, speed, and altitude. Then you can keep track of what's flying overhead.
What can local residents do now? Don Minnis, the alternate representative for Mount Vernon on the MWAA Reagan National Airport Community Working Group, said people should get involved with the SFA because it specifically represents the Fort Hunt Corridor from Belle Haven down to Mount Vernon.
Pamela Norton of the SFA said they are in the process building a grassroots momentum and need more people to participate. "We want a solution that incorporates all of us … We need numbers. We need to make all of our concerns known. We need to put our heads together and need to unite."
She urged people to participate in one of the SFA Committees: Community Outreach Committee; Coordination Committee; Data Collection Committee; Mobilization and Legal Research. Other ways to get involved include:
Log daily noise complaints with Reagan National Airport online at: https://complaints.bksv.com/dca
Check and "like" the SFA Facebook page to become informed on the issue. Go to www.facebook.com/southflowalliance
Call or write elected officials to show them that the issue concerns many of their voters and deserves immediate attention.
Write a letter to the editor to the local paper or an opinion piece in neighborhood newsletters.
Become an active member of SFA by signing up with one of the committees.
Rioux said noise complaints should also be submitted to the MWAA on-line by going to http://www.flyreagan.com/dca/reagan-national-submit-noise-complaint.
He said while a response to a noise complaint is unexpected, submitting a complaint helps document and underscore the noise impact that flights have on our communities. It also helps support the efforts of the community representatives on the MWAA Community Working Group to affect changes to flight procedures.

"Many of our elected officials including Congressman Don Beyer, Delegate Paul Krizek and Mount Vernon Supervisor Dan Storck Residents have been actively engaged in addressing the noise impact with the FAA and their efforts have been impactful. However, residents should also express their opinion and concerns through letters or emails to other elected officials including Senators Kaine and Warner and state Senator Scott Surovell. esidents of Alexandria City should also take the same action with their elected officials," he said.
"Legitimate and documented noise complaints are data points that help drive change," he added