Mount Vernon — Three information posters at the Embark Richmond Highway Meeting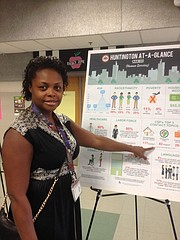 showed how complicated rerouting, widening and transforming a road like this was. They were all "at-a-glance," themed around the Huntington, Groveton and Mount Vernon areas that were full of graphs and charts reflecting the demographics the Embark plan was encompassing, including transit, housing, schools, parks, historic sites and environmental needs.
"This is a work in progress," said Mount Vernon Supervisor Dan Storck, who went through the slide portion of the meeting talking about big picture items that require justification and federal funding. "It will truly transform our community," he said, noting that the current road configuration was from the 1950s and 1960s.
Change has started on this corridor though and getting rid of a seedy hotel in Woodlawn was a small but significant victory for Storck. "[It] is now history," he said with a smile.
Next step is to change the Fairfax County Comprehensive Plan, which is in progress and will most likely be resolved in early 2018 after a series of meetings and public hearings. Then the timeframe for reconfiguring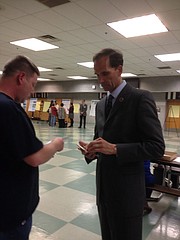 intersections, redesigning corridors, implementing a bus rapid transit system, and making the Route 1 corridor something that reflects modern day urban geography was uncertain. The year 2040 was on one of the slides.
Over the summer there will be more residential meetings. Public hearings in the fall will be followed by a draft of amendments to the comprehensive plan which will then go before the Board of Supervisors. Del. Mark Sickles, whose district touches Route 1 in a couple of areas, looked at the multifaceted process. "Embark is a process to help make land use changes so the most is made to redevelop Route 1 so it can support transit," he said.
Area officials need to build the case for transit, and present it to the Federal Transit Administration for a grant, and it will be competing with other projects in the U.S.
During questions from the audience, one woman who was on housing subsidies that amounted to $900 a month wanted to know about affordable housing, here in an area where the median price of a home is $521,000 according to Zillow.com.
Storck talked about North Hill, a low income project off Lockheed Boulevard that he is hoping will be under construction soon.
A pedestrian problem on Route 1 was discussed as well that many were aware of, including Jack Crawford, a resident of Mount Vernon. "I've seen a woman with a baby carriage in the street, that's insane," he said.
Tom Biesiadny, from the Fairfax County Department of Transportation, noted the various sidewalk projects in the works and others that were completed recently. "We agree with you that there's a need for more pedestrian facilities, this summer you'll see several more projects underway," he said.
The Virginia Department of Transportation has started a project to widen a portion of Route 1 in the Woodlawn area from Jeff Todd Way northward to Napper Road, but a shovel hasn't actually broke ground yet. According to the plan, construction will begin on this $214.8 million project in early 2023.
"That's what this year is all about," said Storck, who spoke of his plan for community meetings in June and July. In the audience was Stewart Schwartz, the executive director of the Coalition for Smarter Growth, and he endorsed the plan because it's working with transit-oriented development. "A lot of benefits come from redevelopment in a smart growth way," he said.