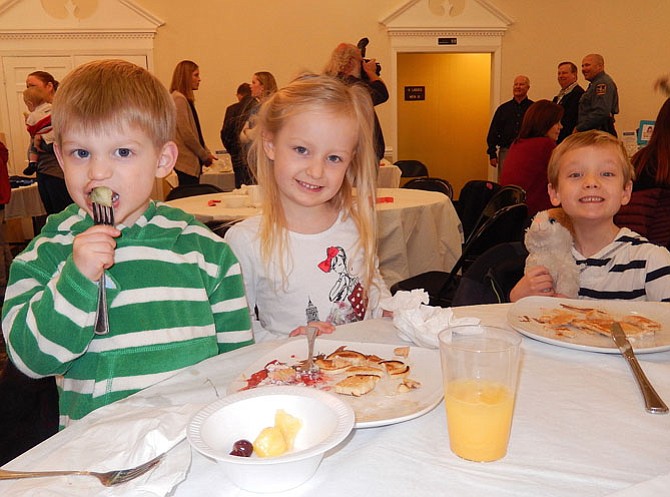 In 2013, teacher Jay Coakley started Ellie's Hats to cheer up one of his students, a then-5-year-old named Ellie, who'd been diagnosed with leukemia. When she lost her hair from her treatments, she wore hats to school every day, so Coakley organized a hat drive to get her more.
Realizing he could bring similar joy to other young, cancer patients — and also raise awareness about the disease — he founded the nonprofit Ellie's Hats. And this Saturday, May 20, from 8-11 a.m., the second annual Ellie's Hats Pancake Breakfast fundraiser will be held at American Legion Post 177, 3939 Oak St. in the City of Fairfax.
An extensive breakfast-buffet menu will be offered, including a pancake bar with toppings such as whipped cream, chocolate chips, blueberries and strawberries. Attendees may also chow down on eggs, bacon, sausage, ham, hash browns, biscuits and gravy, French toast, fruit, juice and coffee. Cost is $15, adults; $5, children; $35, family. Tickets are going fast, but still may be purchased at ellieshats.org.
One of the event's organizers, Brian Drummond, is hoping for a good turnout because "This is an important cause. Pediatric-cancer research is underfunded, and we're doing what we can on a local basis to alleviate the stress on families of children with cancer."
The proceeds will enable Ellie's Hats to continue collecting and donating hats to children with cancer, as well as help financially support their families and the hospitals, such as Inova Children's Hospital, that treat pediatric cancer patients. Besides contributing money to that hospital for their treatment, Ellie's Hats provides newly admitted, young cancer patients there with Hero Bags including: A tote bag, sweatshirt blanket, card games, crayons, markers, hand lotion, socks, tissues, sketch books, and note cards and envelopes.
The Sons of the American Legion are donating their time and efforts to prepare Saturday's breakfast. The event will also feature a silent auction and raffle with a variety of items, such as restaurant gift cards, sports memorabilia and certificates for jewelry and car detailing.
Attendees may also vie to win: A family fun day at Rebounderz trampoline park; Stella & Dot necklaces; day passes to any Fairfax County Rec Center; gift cards from Big Bad Pit BBQ, Captain Pell's, IHOP, Massage Envy, Shear Joy Hair Design and Rescue Me cleaning; a Beachbody fitness basket; one-hour passes to Mommy Co. time out; NFL gear; a princess basket; girl's dress and leggings from Lularue; autographed, Washington Capitals hockey pucks and hats; a "Survivor"-themed basket; Washington Redskins items; Nerium skin-care products; Hadley & Hudson wooden signs; an Ellie's Hat set for a girl and her doll; and artwork by Ellie, herself.
This year's main sponsors are Mystek Systems, Jim McKay Chevrolet, All State Agency Owners, and Mike and Christine Angles. For more information about Ellie's Hats, go to ellieshats.org.